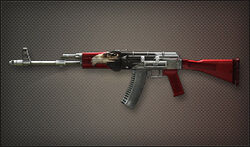 "

A custom variation of the AK-47. It features a better firing rate and less recoil than the original model thanks to the use of high-strength, high-precision breech-block and other parts, including a re-balanced centroid.

"

 

— Weapon Description 
The AK47 Hawkeye is a capsule shop variant of the AK-47 first introduced in the 12-09-10 Content Update. It is a euro capsule weapon, and as such has no available mods.
Overview
The weapon is adorned with a hawk motif on the hand-guard. In addition, its paint job is a red color scheme. It deals less damage than the original AK, but it compensates by having an increase in stability and rate of fire.
Capabilities
Though the Hawkeye has a reduction in damage, the increase in stability and rate of fire are noticeable improvements over the regular AK. Based on its model and stats, it can  presumed to be a derivative ak74 then the 47. The hawkeye is a very accurate gun when tap firing. However, its below-average range is insufficient for long distance engagements and bloom can get out of hand while moving. The Hawkeye is usually a 1-hit kill to the head from under 20 meters on standard and supply helmets, and occasionally on large caliber helmets. It's a 1-3 hit kill on EA08 and AA07 helmets, and usually a 1-2 hit kill on Soccer Helmets.
It is an extremely sprayable gun. There is little bloom for the first 10 or so shots, but successive shots are unpredictable and tend to land towards the edge of the crosshairs.
The hawkeye has an altered reload animation compared to the AK.
Recommended Usage
The recoil pattern is such that if you aim for the upper chest or lower head you will generally get a kill very fast, since the recoil drifts up a little and then rolls in a slight circular pattern (it's rather unpredictable, not at all like Mk.3 weapons). Bullets will generally land in the center of the crosshair for the first 10 shots of fully automatic firing, and since the bloom and recoil are very low your shots are going to go where you aim and stay in that general area for those 10 or so shots. Tapping is not required for most confrontations, though it is recommended if you're sending a lot of bullets to the enemy in a short period of time, as your accuracy will remain high and your cross-hairs small.
Overall
This gun is very powerful, easy to use, and useful at close and medium ranges. It frequently kills with 1-5 shots to the head/upper chest, depending on armor. If you do not have it, you should definitely get it.
Modifications
This gun has no modifications
Recommended Builds
This gun has no modifications
Variants
Tips
Use brief bursts or single shots at long range, medium range requires standard bursts and full auto is recommended at close range for surest kill. 
Crouch and tap fire at the head to ensure a headshot.
Notable Comparisons
AK47 Predator
Up to 30-35m Hawkeye gives same damage asAK47 Predator. After that Predators range bonus is starting to show up. Their recoil pattern and shots grouping are similar for first 5-6 shots, then Predator shots starting to land vertically at the same height when Hawkeye still goes up. AK47 Predator can be considered as an upgraded version of AK47 Hawkeye.
Trivia
The AK47 Hawkeye is really an AK74 in the picture, and the in game model. The difference being a less curved magazine, the addition of a muzzle break on the end of the barrel, and the same hand grip. It is possible that the AK47 Hawkeye was really meant to be named the AK74 Hawkeye, but was changed in translation. This also helps explain the lower damage rating, and higher accuracy compared to the AK47 due to the AK74's smaller, yet much faster, and more accurate cartridge.
When sustaining full-auto firing the crosshairs can be seen fluctuating in and out. The accuracy still remains relatively the same though.
Gallery
GIF Gallery
Media