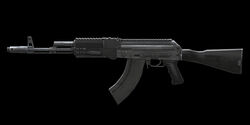 "

Designed for the modernization of the Russian Armed Forces, it is based on the AK-74. The AK-200's sophisticated design is fully in tune with the new demands for waging modern warfare.

"

 

— Weapon Description 
Available from 5th December 2012 Content Update.
Overview
Like all AKs, this is a high damage weapon suited for longer ranges due to lower rate of fire. However, the AK200 possesses higher than average damage, at 36, allowing it to be used at closer ranges if the player is capable of headshotting. The AK200 has some bloom, so aiming down the sights is extremely recommended, as doing so eliminates most of the recoil.
AK200 has been nerf (-1 Acc,-1 ROF,+1 Stab)
Modifications
Mount
Red Dot Sight[x2 HS]
ACOG [x4]
Barrel
Long Range Barrel MK.II(+5.5 Range)
Burst Barrel(+0.48 RoF, -1.8 Accuracy, -1 Auto Fire ACC)
Reinforced Barrel(+4 Damage, -0.67 RoF)
Recommended Builds
Medium Range (+4 Damage, -1 Stability, -0.67 ROF)
Preferred Build
Reinforced Barrel
Red Dot Sight [x2]
Close Quarter (+0.48 ROF, -1.8 Accuracy)
Burst Barrel
Red Dot Sight [x2]
Long Range (+5.5 Range)
Long Range Barrel MK.II
ACOG Sight [x4]
Variants
Tips
This gun has little to no recoil, especially when scoped in. The AK200 performs best when scoped in, as the low recoil, higher accuracy, and high damage allow it to be used as a headshot machine.
The AK200 can be sprayed with good efficiency.
Notable Comparisons
While hipfiring the AK200, accuracy is comparable to the M4A1 MK.3.
Both the AK47 MK.3 and the AK200 share similar damage (36-39 to 40), higher range (48 to 49), lower accuracy (70 to 76), MUCH higher stability (62 to 50), same mobility (45), and slightly lower ROF (41 to 42).
When scoped, the AK200 behaves very similar to the AK-107bis. They both have the choice of a 2x Red Dot Sight or a 4x ACOG Sight. What makes the AK200 more valuable is the Reinforced Barrel mod, which boosts the damage to 39. Unmodded, the AK-107bis and the AK200 share similar damage, 36 to 35. However, the AK-107bis possesses noticeable higher rate of fire, enabling the user to kill enemies faster during close quarter combat. Both the AK200 and the AK-107bis can be sprayed to good effect.
Trivia
This was one of the first euro weapons in the in-game shop that was never available for permanent purchase.
The AK-200 was the prototype of the newer iteration of the AK family, the AK-12.
Gallery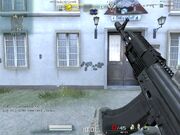 Media