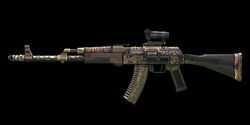 "

A customized version of the AK74M. Its overall performance has been boosted by using parts with improved precision and durability. Its value as acollectionle is also high because the design has been engraved by a master craftsman.

"

 

— Weapon Description 
The AK74M Seroja is a Capsule Shop weapon of the AK74M series. It is also available as a timed version through LASTMAN standing games, in chests.
Overview
The AK74M Seroja is the capsule variant of the AK74M, its damage is unnoticeably lower, but almost every other stat has been improved. The most notable change was in its stability, increasing in a whopping 19 points, and that is truly reflected in its behavior. When bursted, the weapon has almost no recoil, minimal spread and good accuracy, when crouched, it becomes even better, further increasing the already good accuracy. Also, unlike the regular AK74M, it has decent moveshot, being able to land the first two or three shots with good results.
It has slightly increased range as well, meaning you will fare well against opponents in mid-to-long range, which allows the player to be more flexible and play a more defensive role. The major weakness of the AK74M was its low range, and the Seroja improves on that matter. The use of the scope is not recommended unless you like aiming for the head or you want to zoom in for those long range shots. It is very unpopular, due to the fact that many players don't know the AK74M's effectiveness, leading them to think that the Seroja isn't much better than the regular version. It is a very versatile weapon that can be used to great effect in skilled hands.
Modifications
The AK74M Seroja has no modifications.
Variants
Tips
Trivia
Gallery
Media