This article is a stub. You can help Alliance of Valiant Arms Wiki by expanding it.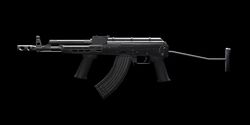 "

Thusly, the AMD65 retained much of the qualities of the original AK47 assault rifle family, including the distinct outward appearance. The cocking handing was held at the right side of the gas cylinder protecting above the barrel assembly. The folding stock was hinged at a single point and folded over the side receiver. The forward stock was fitted under the gas cylinder/barrel area along a lengthened lower receiver. The weapon was fed via a 30-round detachable box magazine and fired at a rate of 750 rounds per minute.

"

 

— Weapon Description 
The AMD65 is an Assault Rifle first introduced during the 16/8/2012 Content Update as a pre-release capsule.
Overview
The AMD65 is a very deadly weapon, with high accuracy, medium fire rate and high mobility, great for rushing style players. It is available at Duck rank at 70,000 Euros. The standard ammo count is 30/60, and 30/75 with the right Rifleman upgrades. The AMD65 is a unique Assault Rifle, with great mobility and accuracy which makes it a deadly weapon at close/middle range combat. The recoil is easy to control at burst, but a close range full auto recoil goes upward a bit, and the medium DPS, almost the same as the Remington R4. The AMD65 also features a quite fast reload, but the more important aspect of this weapon is the high mobility, technically made for rushing. When modded, the AMD65 can be used just like a pointman weapon with high ROF/DPS, depending on the modifications. Despite the low DPS the AMD65 has, it can be modified. However, the AMD65 itself can easily outgun any weapon at close to medium range when used correctly.
Modifications
Barrel
Long Range Barrel II (+8.1 Range)
Burst Barrel (+0.47 Rof, -0.7 Accuracy, -0.6 Auto Fire ACC)
Reinforcement Barrel (+4 Damage, -0.66 ROF)
Trigger
Veteran Mechanism (-1.1 Auto Fire ACC, - 1.5 Accuracy)
Note: Adds V shaped recoil pattern
Mechanism Improvement (+0.47 RoF)
Note decreases felt recoil per shot, increases weapon climb and bloom
Grip
Ergonomic Grip (+1.1 Accuracy, +1 Auto Fire ACC)
Recommended Builds
No Disadvantages (recommended)
This build has no disadvantages. It gives +3 Range, +1 RoF
Long Range Barrel (+3 range)
Mechanizm Improvement (+1 RoF, -1 Accuracy)
Ergonomic Grip (+1 Accuracy)
Close Range Build(High DPS)
This is a build for CQB. It provides highest possible DPS but it is harder at long-range. It gives +3 Damage but also -1 Stability.
Reinforced Barrel (+3 Damage, -1 Stability, -1 RoF)
Mechanizm Improvement (-1 Accuracy, +1 RoF)
Ergomomic Grip (+1 Accuracy)
Close Range Build 2(High ROF)
This is a build for fast ROF, used for rushing enemies. This will increase bloom and recoil, but will kill enemies quicker. It gives +3 ROF at the cost of only -1 accuracy.
Burst Barrel (+2 ROF, -1 Accuracy)
Mechanism Improvement (+1 ROF, -1 Accuracy)
Ergonomic Grip (+1 Accuracy)
Variants
Tips
Be sure to zoom at farther ranges. You are not taxed ROF while zoomed with this weapon
When within roughly 10 meters, use this gun like a pointman weapon, and move slowly side to side.
Try to do controlled bursts with this weapon as it will maximize the long range potential of the gun.
Use the mobility to your advantage and strafe while shooting. 
The suppression capabilities of this weapon are high, use it to your advantage to keep enemies further back at long ranges. 
This gun has low DPS so high DPS riflemen weapons have the advantage at CQB. Shotguns or regular point man weapons which will almost always outclass you unless you can get headshots. However, when modded right, this gun can perform well in close quarter combat.
This weapon can be used by spraying or control spraying, not tapping.
The reload speed is quite high, so use it to your advantage by suppressing fire. You can easily dart from cover to cover with the high mobility while laying down a line of fire.
Notable Comparisons
K2 Rail
K2 Rail has negligibly higher damage (36 to 35), the same range as the AMD65 (45), marginally higher accuracy, (75 to 71), significantly higher stability (60 to 32), much lower mobility (47 to 63) and has slower rate of fire (48 to 51).
Verdict: K2 Rail has more damage recoil and tighter crosshairs while the AMD65 has a higher ROF, mobility,and bloom.
Remington R4
The Remington R4 has the same damage as the AMD65 (35), noticeably higher range, much higher accuracy (82 to 71), significantly higher stability (64 to 32), much lower mobility (51 to 63) and slightly higher rate of fire (53 to 51). The AMD65 can zoom in and make its crosshairs tighter while the Remington R4's crosshairs will expand when zoomed in. 
Verdict: The Remington R4 has more bloom,ROF, and range. The AMD65 has tighter crosshairs,better moveshot accuracy,and mobility.
These two guns are allegedly similar in performance to the AMD65, but some stats prove that all three are more adept at specific situations. AMD65 is great for moveshot, Remington R4 is great for bursting, and the K2 Rail is great for taping/headshots. However, the AMD65's modifications can alter the gun to perform well at both close quarters and medium range.
Trivia
The AMD65 is a Hungarian-manufactured variant of the AKM assault rifle
The AMD65 sounds like the AMD brand of processors. When the gun was new to KAVA, if you searched AVA AMD65 on YouTube, all you would get were videos of the AMD processors...
This gun will be released in AVA SEA on the 20 January 2014
Gallery
Media