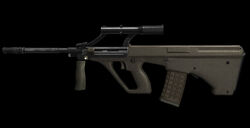 "

Unique outlook and plastic components have put this bull pup assault rifle center of attention since its birth. High durability and performance led it to commercial success as well. The rifle is fully ambidextrous after swapping out the bolt and replacing ejection port covers.

"

 

— Weapon Description 
The AUG-A1 is an Austrian Assault Rifle introduced in the 08-12-09 Content Update.
AUG-A1 Overview
In short, a Rifleman weapon with high accuracy at the cost of every other stat.
The AUG-A1 features an integrated scope that helps to facilitate rapid and more accurate aim at longer distances. Its direct rival would be the G36. It features an increase in range and accuracy, but it has less power, mobility and a slightly lower rate of fire. Compared to the G36, it has crippled stability. It is generally advisable to avoid using this weapon because it is too average in many aspects and incapable of excelling, although if used properly, it's accuracy can be used to exploit headshots. It should be noted that the AUG A1's accuracy is its strongest feature, and it can be greatly expanded upon by upgrading to the AUG-A3, at the cost of extra recoil.
AUG-A3 Overview
For a price of 3,000 Euros, players can modify their AUG-A1 into an AUG-A3, which features rails for the attachment of different optics. As with all Modded weapons, the upgrade comes adds additional recoil in exchange for its capacity to be customized and a reduced repair cost (To balance out the money spent on modifications).
Some argue that the AUG A1 is superior to its upgraded counterpart, though their general preformance tends to be similar. However, using the correct modifications can make the AUG A-3 an excellent mid range or burst gun.
If modded correctly, the first one or two shots may have little to no recoil, making it an exceptional tap fire gun that holds exceptionally good accuracy. In extreme situations, if one cannot take cover, this can be used to tap fire at snipers to disorient them from hitting you, and if you aim properly at the head, you can easily kill snipers.
Ironically enough, most of the AUG-A3's attachments focus on upgrading accuracy at the cost of every other stat, which is already the only strongpoint of the AUG series.

Mods for AUG A3
Front
Laser Sight (-0.7 Mobility)
Mount
Dot(x2 HS)
ACOG(x4)
Barrel
Sharp Shooter Barrel (+2.7 Accuracy, +2 Auto Fire ACC, -0.48 RoF)
Heavy Barrel (+3.8 Range, +1.7 Accuracy, +1.3 Auto Fire ACC, -0.74 RoF)
Trigger
Stability Upgrade (+2.4 Stability, -0.29 RoF)
Accuracy Trigger (+1.8 Accuracy, +1.3 Auto Fire ACC)
Grip
Aim Shot Helper
Stock
Light Stock (+2.3 Mobility)
Aim Shot Shock Absorber
Gallery