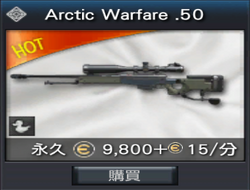 "

An objective sniper weapon that uses .50 BMG ammunition in the Arctic Warfare series of Accuracy International . The gunshot catches the eye of all snipers and heavy machine gun shooters in combat.

"

 

— Weapon description 
The Arctic Warfare .50 is a sniper rifle that propably will be available in UAVA.
Mods

Mount
Barrel
Reinforced Barrel Damage +15.0, Auto Fire -0.02)
Long range Barrel (Range +1.5, Control -1.3)
Trigger
Drive system modification (Autofire -0.02)
Magazine type exchange (Control -6.5, Magazine +5)
Stock
Heavy Stock (Control +3.0, Mobility -0.8)
Shock absorber (Auto Fire +0.05)
Media