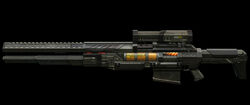 "

Prototype of an electron-accelerating sniper rifle model, developed using the frame of the Barrett M82 series. It functions as a substitute sniper rifle, using a small nuclear battery and ultralight conductor bullets.

"

 

— Weapon Description 
Overview
The Barrett XM209 Railgun is a skinned variant of the Barrett M82A3 sniper with a wildly different appearance. Performance-wise, it is identical to the original, with the exception of magazine size (6 vs. 5) and the scope is un-moddable on this version.
Same as the regular Barrett, you must crouch with this weapon in order to be accurate. With a standing accuracy of 32.4, you won't hit the broad-side of a barn unless you crouch.
Barrett and Railgun have the highest damage in the game, as well as the best wall-banging capabilities. With it, you can shoot through some pretty ridiculous spots on maps in order to hit enemies.
Modifications
None
Variants
Tips
CROUCH
Take advantage of it's stupid wallbanging capabilities. If you think you know where an enemy is behind a wall, try hitting them
It actually has pretty good no-scope accuracy. Adjust your aim slightly down and slightly to the right and it should help
Notable Comparison
Nothing. Nothing is quite like the Railgun
Trivia
The side of the scope says "M82A3_primium"
Gallery
Media