This article is a stub. You can help Alliance of Valiant Arms Wiki by expanding it.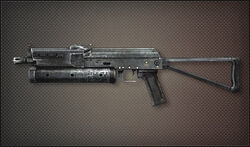 "

This odd-looking SMG was developed by IZHMASH in 90s and revealed in 1993. It has same trigger unit as AK74M and forward sight is similar to Dragunov SVD. A large number of ammo can be loaded to its round-shaped cartridge.

"

 

— Weapon Description 
Overview
The PP-19 Bizon is a widely-used submachine gun that is available only to the Pointman class. It possesses a huge magazine capacity of 64 rounds, reloads fairly quickly, has good control, and also allows the player to move around quickly due to its high mobility. Its excellent capacity and mobility is balanced by its very slow rate of fire (slowest of its class) and low starting damage, which can be modified to a maximum of 35 (putting it on par with some assault rifles) and is therefore not much of a hindrance. At point-blank range, it is frequently bested by other submachine guns that have faster firing rates such as the MP5K-PDW or the Uzi, while at longer ranges it is easily beaten by assault rifles and carbine-type Pointman weapons like the AKS-74u. Therefore it is generally advisable to use the PP-19 between close to medium range. Its huge magazine capacity greatly aids in facing several foes at once, and it is recommended to reload only when the magazine capacity falls below 12 or so rounds in order to take full advantage of this.
Like most submachine guns, it can attach a silencer, which greatly reduces the loudness of its shots and eliminates the enemy's damage direction indicator, at the cost of reduced effective range. A player can effectively utilize the PP-19's fast mobility in conjunction with a silencer to make for quick stealth kills.
Many players favor this weapon for the Prison Break game mode for its high capacity and fast mobility, which allows players to both continually rack up many kills and easily maneuver around incoming hostiles. It is highly inaccurate beyond medium range and possesses a relatively large set of crosshairs, but its spread is very minimal, making for effective jump shots to be possible.
If you are an fan of the Bizon, the Calico M950 may be a weapon of interest since it behaves similarly and is effectively an enhanced version of the Bizon. Be warned however; the Calico is VERY expensive and is a long-term investment that is not suitable for everyone.
Being of Ducky Rank, it is one of the few rentable weapons in ijji AvA.
Mods
Barrel
Burst Barrel (Accuracy -0.1, Auto Fire ACC -0.1, Auto Fire +1.11)
Spetsnaz Edition (Auto Fire ACC +3, Mobility -2.7)
Trigger
Mechanism Improvement (Auto Fire +0.62)
Cylinder Upgrade (ATK +3.0, Accuracy -0.1)
Grip
Human Engineered Grip (Accuracy +1, Auto Fire ACC +1)
9mm Para. Magazine (ATK +3, -11 Ammo)
Recommended Builds
Max DPS (Lowered ammo, Highly Recommended):
Burst Barrel
Mechanism Improvement
9mm Para. Magazine
(+2 Dmg, +3 RoF, -2 Accuracy, -11 Ammo)
Max RoF (Recommended, Ammo maintained)
Burst Barrel
Mechanism Improvement
(+3 RoF, - 2 Accuracy)
Max Damage (Not recommended, see video below):
Cylinder Upgrade
9mm Para mag
(+4 Dmg, -1 Stability, -11 ammo.)
Maximum Bullet efficiency (Not recommended for low ranks, retains original Ammo)
Cylinder Upgrade

Spetsnaz Edition

Human Engineered Grip
(+2 Dmg, +2 Accuracy, +1 Stability, -2 Mobility.)
Comparison of ROF vs Damage setups w/calculations: http://www.youtube.com/watch?v=J3DjzWAIgdE
Variants
Tips
Notable Comparisons
Trivia
The model in game has the safety catch set to safe, but the gun can still fire in full auto.
The Bizon comes in 4 calibers,the one ingame being 9x18 Makarov determined by the magazine capacity of 64 rounds.
Gallery
Media