Jurassic World: Dominion Dominates Fandom Wikis - The Loop
Play Sound
This article is a stub. You can help Alliance of Valiant Arms Wiki by expanding it.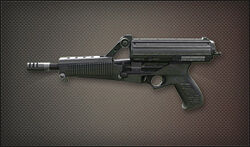 "

A novelty SMG designed and manufactured by Calico of the United States. Its helical magazine has a load capacity of 50 rounds. Although it has good accuracy, the firing characteristics of this SMG makes it difficult to control in full-automatic firing because its centroid shifts too wildly.

"

 

— Weapon Description 
The Calico M950 is a Pointman weapon first introduced during the 09-21-11 Content Update.
Overview
The Calico M950 is most notable for its unique shape, 50 and magazines and low price (43.000 now)
One of the most common evaluations of the Calico M950 is that it is effectively a "buffed" Bizon PP-19, featuring enhances to every stat except magazine capacity. It has comparatively low bloom, high stability, and low accuracy (at least, within its class). It features low damage, high RoF (powered from 50 to 71), high capacity, and a quick reload. For its class, it also features medium-high range. Recoil is light and bloom is mediocre, akin to the Bizon. It is recommended to shoot in roughly 3 shot bursts, accuracy is acceptable at medium range.
Unlike the Bizon, the Calico can zoom in and is particularly accurate when doing so, but it does not have a sight nor can it be equipped with one. Also, where the Calico cannot equip a silencer, a Bizon can.
The Calico is very useful for the "Prison" themed [AI] stages, since accuracy, damage, and range have significantly smaller roles, and magazine size, RoF, and Mobility have larger ones.
It was OP after lastest patch so atm is bettern then galil mar, and less expansive and obtainable at lowest rank
Modifications
Recommended Builds
Variants
None
Tips
Always keep the crosshair at neck or head level.
Notable Comparisons
Bizon PP-19 : Similar Clip With Mod (Bizon:53 Calico:50). Calico has greater RoF, Similar Damage (Calico:32 Bizon:31 w/out mods)
Trivia
Despite being fully automatic,its ingame designation is M950,not M950A.
Gallery
Media