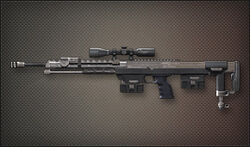 "

A german-designed bolt action bull pup sniper rifle. It is designed for the police and other law enforcement agencies. Portability, accuracy, and precision are its greatest strengths. This model comes with Picatinny rail.

"

 

— Weapon Description 
The DSR-1 is a Sniper Rifle first introduced during the 02-24-11 Content Update.
Overview
The DSR-1 is a sniper rifle that, despite being seemingly massive, has the highest mobility rating in its class. The DSR-1 has overall very high damage, a fairly mediocre-quick scoping speed, acceptable accuracy, acceptable range and the default ammo capacity for a 1 hit KO weapon. The DSR-1 is also a weapon which is only purchasable for euros at the rank of Master Sergeant 1. Considering that the tag rate on this rifle is higher than the FR-F2 which has lower damage and range, it could be assumed that its stats are false. There are reports that the standard M24 with the upgrade kit tags less than the DSR-1.
It is recommended that players use only the stability stock along with their choice of barrel and scope. The Long Range Barrel 2 will decrease the tag rate overall, however it also substantially decreases the accuracy as well. The Reinforced Barrel 2 increases accuracy as well as damage, but will tag more than the Long Range Barrel. Stability is not of too high importance due to the fact that the DSR-1 is a bolt-action sniper rifle.
Nonetheless, the DSR-1 is quite popular, because of its fairly low tag rate, scoping speed and mobility and is often seen(along with the FR-F2 ) being wielded by higher ranks in the PVP channel.
Compared to the FR-F2(which is unlocked at the identical rank) the DSR-1 has higher mobility, higher damage, approximately equal scoping speed(by default), more range and identical magazine size but lower accuracy, ROF and stability. The DSR-1 also quite expensive and costs almost 10,000 more euros than the FR-F2 which is why some players buy the FR-F2 instead.
This weapon is used by Bots in "Canon: [AI] Demolition".
Surprisingly, despite the Mosin Nagant being allegedly the quickest QS rifle, the DSR-1 seems faster when quick-switching.
Modifications
Mount
Quick Scope 2 (A scope with fast single-step zoom)
High Power Scope 2 (A high-powered scope with fast two-step zoom)
Barrel
Long Range Barrel 2 (+20.9 Range, -8.1 Stability, -7.7 Accuracy)
Reinforced Rifle Barrel 2 (+10 Damage, +2.7 Accuracy)
Grip
Ergonomic Grip 2
Weight Grip 2 (-8.1 Stability, +1.6 Mobility)
Stock
Heavy Stock 2 (+11.9 Stability, -0.8 Mobility)
Shock Absorber 2
One Hit Kill % 
Notes:
14 Armor equipped
10 shots per distance
Shot at the arms
Barrel: Long Range Barrel 
Variants
Tips
Always use the Quick Scope on this gun, as it is the fastest scope, and works well with the weapons stability, as well as mobility. Combine this with the tag rate, and you have one of the best close range snipers available.
The stability on the DSR-1 is high for a bolt action sniper rifle, so moveshot is advised.
Remember to quick-switch with the DSR-1, as players will be able to get 2-3 shots off in the time it takes for most other sniper rifles to fire 1 shot.
The reload speed on this gun is horrendously slow, thus, increasing the magazine capacity will help keep players fighting without worrying to reload as much.
Notable Comparisons
M40:
Pros vs DSR-1: Faster Quickswitch, faster reload, not as loud as DSR, even more accurate moveshot, more accurate when breakshoting/standing.
Cons vs DSR-1: Tags alot more, easily 20% of M40's upper body hits tag vs maybe 5% (if using LRB) of DSR-1's upper body hits.
On leghits both will tag, both have equally good noscope accuracy and both have similar jumpshot accuracy.
The list of M40's advantages is long, but the significantly more reliable one hit kill of DSR-1 makes it the far more popular rifle.
Mosin:
Pros vs DSR-1: Even more accurate moveshot, even more reliable OHK, longer range. Seems to suffer less from knockback than the DSR-1.
Cons vs DSR-1: Slower reload.
The Scope of Mosin has less magnification than the Quickscope of the DSR-1, at short to midrange distances this is a advantage, at longer ranges it is a disadvantage. However, in general players who like the DSR-1 will love the Mosin.
Trivia
In real life, the DSR-1 is a very accurate sniper rifle. Given the right conditions, the shot grouping of the DSR-1 would be 0.2 MOA, which is amazing. The GSG 9 and other European special police forces have adopted the DSR-1 as a marksman weapon, giving further proof that it is a high performance firearm. 
Gallery
GIF Gallery
Media