Jurassic World: Dominion Dominates Fandom Wikis - The Loop
Play Sound
This article is a stub. You can help Alliance of Valiant Arms Wiki by expanding it.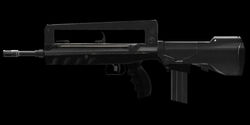 "

It is the service rifle of the French military. The rifle uses a lever-delayed blowback action and is a bull pup assault rifle.

"

 

— Weapon Description 
The FA-MAS F1 is a Rifleman weapon released on AVA's launch date.
Overview
The Famas is considered to be one of the more niche weapons in the game. While it boasts decent range and high DPS, the instability makes it extremely impractical for most rifle users. The gun suffers high recoil as well as very slow recovery rate, making it difficult to use past Close Quarters Combat. Most consider it to be more of a Pointman weapon because of the fast ROF and high recoil, and excells when used as one. However, for those who wish to master it, it is recommended to upgrade into the FAMAS G2, which is generally accepted as an overall superior weapon. Upgrading the scope is of impracticable use, however, because the high rate of fire leads the weapon to become incapable of stable and accurate long-range fire. Be warned, regardless of how you mod it, it is still one of the least reliable weapons in game. Don't buy it permanent unless you absolutely must have it.
Being of Ducky rank, it is one of the few rentable weapons in ijji AvA.
In its rentable form, it is still able to be upgraded to the FAMAS G2.
Modifications
None (Upgradable to G2)
Standart build
Laser Sight (+1 Accuracy, -1 Mobility)
Sharpshooter Barrel (+2 Accuracy, -1 RoF)
Stability Upgrade (+2 Stability, -1 Accuracy)
Custom R.C Stock (+3 Stability)
Recommended Build1 (like M4A1 with BB)
Laser Sight (+1 Accuracy, -1 Mobility)
Sharpshooter Barrel (+2 Accuracy, -1 RoF)
Custom R.C Stock (+3 Stability)
Variants
Tips
Notable Comparisons
Trivia
Gallery
Media