Jurassic World: Dominion Dominates Fandom Wikis - The Loop
Play Sound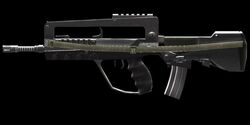 "

An experimental version of the FA-MAS with burst-fire mode. The weapons overall performance has been improved by implementing some features requested by frontline soldiers

"

 

— Weapon Description 
Overview
The FAMAS or Fusil d'Assaut de la Manufacture d'Armes de Saint-Étienne, is a bull pup rifle of French origin. Its bullpup design means that the magazine, bolt carrier group, and trigger houseing is situated behind the trigger. This allows for a full length barrel, yet keeping the overal length of the gun on par with a SMG. It fires the standard 5.56NATO from a magazine holding 30 rounds. The FAMAS is currently the standard issue assault rifle for the French Military. The FAMAS MK.3, is a highly versatile assault rifle, capable of both close range, AND medium and long range engagements. It has several key advantages over other assault rifles, and several disadvantages, but its pro heavily outweigh the con.
Advantages
Ridiculously high RoF. At 80 RoF points, it holds the highest RoF of any assault rifle in game, on par only with other FAMAS variants (F1 and G2)
Virtually non-existant recoil. The 3 round burst function, paired with its high stability for the first few rounds means that this gun is extremely stable. There is virtualy no recoil when bursted. However, the bloom can be a little bit problematic and long ranges.
Extremely high DPS. Even with its low damage, coupled with its 80 RoF, it deals an amazingly amount of damage at short range with the full auto trigger. However, when you give up the 3 round burst capability, you are pretty much restricting the weapon's versatility to ONLY close range. However, should a user be very disciplined with the trigger, one can mimic a 3 round burst when the time calls for it, but still maintain that high DPS in a close range engagement
Low Rank. At Staff Seargent 1st class, It is unlocked at the same time as the Remington R4, K2 AK74M
Relatively Low price. 48,000 Euro's is a much lower price than the K2, and R4. It offers a high cost:performance ratio.
Accuracy. Its a 3 round burst gun. Nothing more needs to be explained.
Disadvantages
Low damage. It deals only 33 damage, which is further reduced by armor. It is on par with the M4A1 MK3
High recoil when used on full auto without any trigger control. If a user is not highly discaplined with the trigger, this gun loses its high lethality outside of close range.
Lack of attachments. Its only 2 attachments is the Full auto trigger and the Eo-Tech Red dot. The red dot is pretty much useless, as it just restrict your FOV. The Full auto trigger doesnt really improve the gun, just drastically alter the way it is meant to be played
The Full auto trigger is really a give and take. With the 3 round burst function, it plays amazing well in medium-long range, but is a bit lacking in CQC. With the trigger, it lacks in medium range, unless you can 3 round burst consistently, but behaves superbly in CQC
Modifications
Trigger
Full Auto Trigger ( Switches the burst-fire to fully automatic)
Scope
Recommended Builds
Close Range/Mid Range (recommended)
It is CQB version of Famas, gives you possibility to spray. Dot is optional useful at long range
Long Range
This is long range range build. Gives you best possible accuracy
Variants
Tips
There are a couple of tips and tricks that should be used with this rifle. Since the trigger mod basically changes this gun from an Rifleman's weapon to a pointman's weapon, I will make 2 separate guides, each listing ways the gun should be used.
Burst mode (3 rounds)
Try to stay out of close quarter engagements. The 3 round burst function severely hampers damage output at close range. However, this gun is a head shot machine at close range. Use this to your advantage. Also, try your best to flank.
Medium range (15-35m) Tap this gun as fast as it can shoot. Tap at the speed at which the gun can fire off another burst.
Long range (30-45m) Slow down just a little bit on the clicker. At the outer reaches of this range. Scoping in is an option.
Really long range (45m+) Good luck. the 3 round burst means you can only get 1 or 2 shot on target, before the crosshair blooms too much to be effective. plus, a sniper will kill you at that range.
It is very important that you keep a steady rhythm at which you tap. Preferably, the same rhythm as the gun's natural time between bursts. This helps tremendously with accuracy, as just spamming the trigger slightly decreases your hands ability to keep on target. Even in CQC engagements, it is important you keep a calm steady rhythm
Full Auto mode
Stay in close quarters engagements as much as possible CQC is your best friend. You love him, and he loves you. Anyone gets within your zone, you wipe him out with the insane ROF of the FAMAS mk3. Try to aim at the neck. It can lead you to headshots.
Medium range (15-35m) Burst. Try to mimick the 3 round burst without the auto trigger as close as possible. There is far less recoil, allowing for enough bullet to land you a kill. If you're felling confidant and you have a certain amount of skill, put your crosshairs on the enemy and let loose about 10 rounds. Don't forget to keep pulling down the mouse to cancel out the recoil.
Long range ( 30-45m) 1 or 2 shot bursts. If possible use Dot Sight. At this range, accuracy is of utmost importance, so try to land as many shots as possible. Don't panic and keep calm, otherwise you will lose control of the gun very quickly. Make use of the gun's high accuracy. If you hold the mouse down, ALWAYS mitigate recoil. It will work if you do it right.
Really long range (45+m) Don't try to engage. You will die. Move somewhere else where you can control the engagement distance. If you have no choise, crouch, zoom and make short burst at body.
With the Full Auto trigger, trigger discipline is very important. Knowing when to spray, burst and tap is what means the difference between life and death. Also, remember to always drag your mouse down when spraying, as the recoil is pretty much straight up. This gun has realy low DMG. Tapping is not recommended
Notable Comparisons
M4A1
FA-MAS MK.3 can be considerd as an upgraded, harder to use and less mobile alternative to M4A1 with similar recoil pattern. FA-MAS MK.3 has 1 point more damage then M4A1 (33 where M4 has 32), much higher range (48 to 42), less accuracy (61 to 65), less stability (45 to 52), less mobility (50 to 55) but much higher RoF (80 to 67). FA-MAS MK.3 needs more time and patience then M4 to master but rewarding with great results aster w while. Where M4A1 is an relatively easy to use gun that doesn't require long mastering time.
Trivia
FA-MAS is a whole series of guns: FA-MAS F1, FAMAS Export, FAMAS Civil, FA-MAS G1, FA-MAS G2, FA-MAS G2 Commando, FA-MAS G2 SMG, FA-MAS G2 Sniper, FA-MAS G2 Picatinny rail, FA-MAS G2 + M203 and FAMAS-FELIN but only FA-MAS F1 and FA-MAS G2 are available in AVA
Gallery
Media