This article is a stub. You can help Alliance of Valiant Arms Wiki by expanding it.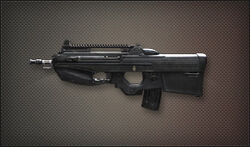 "

The newest assault rifle in bullpup configuration, developed by Belgium's FN. This rifle uses a magazine that can be shared with the M16. Like the P90, its contoured design gives it excellent mobility and handling.

"

 

— Weapon Description 
The Fabrique Nationale F2000 (FN-F2000 in game) is an Assault Rifle first introduced during the 07-13-11 Content Update as a pre-release capsule. In the 08-23-11 Content Update, the weapon was moved to the standard item shop.
Overview
The F2000 is a very deadly weapon with low recoil, an average rate of fire, and good moving accuracy. It is available at Sergeant First Class 1 for 58,000 Euros. The standard ammo count is 30/60, 30/75 with the rifleman perk. The training FN F2000 has recently become the default weapon of the rifleman class and sports a ACOG(x4), but this version cannot be modded.
The F2000, like the M4 MK3, AK-107, L85A2, and XM-8, can put out a nice number rounds while retaining deadly accuracy and low recoil. After a few quick seconds on full auto the recoil curves to the sides. The gun has a low DPS, putting it at a disadvantage in close quarters.
The F2000 features a fast reload, which is a relief when engaging multiple targets.
The F2000 lacks many attachments. There is only one scope available but is not recommended. From the choice of barrels, the long range barrel and burst barrel are good options.
This gun is a good buy for unexperienced players due to its ease of use.
This also results in the F2000 being referred to as a 'no recoil' gun. While it is accurate and easy to use, other riflemen weapons such as the R4, M4 MK3, FAMAS MK3, XM-8, MG4KE, AK-107BIS, and L85A2 are also considered to have little recoil.
A more experienced player can also take advantage of its almost negligible recoil. Using the F2000 can score a player easy headshots from a distance, even while moving, providing for quick kills.
Modifications
Mount
Barrel
Burst Barrel (+0.52 RoF , -0.5 Accuracy, -0.4 Auto Fire ACC)
Long Range Barrel MK ll (+8.1 Range)
Reinforced Barrel (+4 Damage ,-0.73 Rof )
Sharpshooter Barrel (+2.3 Accuracy, +2.2 Auto Fire ACC, -0.47 RoF)
Recommended Builds
Close range (+2 RoF, -1 Accuracy)
Mid range/Long range (+3 Range)
Training F2000
In 2013, the standard default rifle given to new players (G3A3) was replaced by the "Training F2000". This model is simply the standard FN F2000, but has an ACOG Sight with the Long Range Barrel on permanently.
Variants
Tips
This gun is not meant for fast firefights. You will lose. Try to keep a distance, and ALWAYS aim for the head. If you miss the head, the low damage will get you killed. Do not try CQC. This gun is only effective at medium to long range, and is not easy to use when against weapons in the M4 or AK series guns.
Notable Comparisons
Trivia
The F2000 ingame is modelled after the F2000S, which is the variant designed for the Slovenian army. The only noticable diffrence between it and the F2000 Tactical is the carry handle incorporated into the Picatinny rail.
Gallery
Media