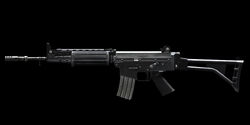 "

A rifle introduced by FN of Belgium, a brand renown for high durability and reliability. Its well-rounded and sturdy design provides rock solid performance while the 5.56x45mm NATO cartridge, a new standard by the time this model was designed, provides good accuracy.

"

 

— Weapon Description 
The FN-FNC is an Assault Rifle first introduced during the 03-24-10 Content Update.
Overview
The FNC is a very well-rounded rifle providing good damage, accuracy, stability and mobility. It has a slower rate of fire compared to some other rifles. Most compare it to a buffed M16. It is average in many aspects and incapable of excelling at any individual stat, but has a decent variety of good mods to switch between. Zooming in with this gun is much better than the rest since zooming does not really affect its already low RoF, in fact, it negates this guns only bad point, which is its fairly fast blooming rate.
Trivia
The FNC was offered to new players in the welcome Package for free and permanent duration. The player needed to spend at least 1 AP to get it and other prizes.
It is modeled after the civilian variant,the telltale sign being a sling mount instead of a bayonet lug.
Mods
Barrel
Long Range Barrel (+2 Range, -1 Stability)
Sharp Shooter Barrel (+2 Accuracy, +1 RoF)
Rifling Reinforcement Barrel (+3 Damage, -1 Stability, -1 RoF)
Burst Barrel (+2 RoF, -1 Accuracy)
Trigger
Veteran Mechanism (+2 Stability, -1 Accuracy)
Grip
Swing Grip (Faster Weapon Swapping)
Weight Grip (+1 Stability, -1 Mobility)
Stock
Light Stock (+2 Mobility, -2 Stability)
Aim Shot Shock Absorber
Recommended Build
A recommended build to use, if you ever buy this gun, is to slap on stability modifiers, accuracy mods and aimed shot, allowing it to work somewhat like an M4MKIII. The barrel that is highly recommended is the Sharpshooter Barrel, which has + 1 RoF, as the stats tend to lie. Veteran Mechanism is highly recommended, but gives the weapon a V shaped recoil pattern, while weight grip allows for slightly better moveshot. The only stock that should be used is the aimed shot since light weight stock is pointless while the aimed shot shock absorber allows for better aim shoted due to lower recoil.
To be honest, Veteran Mechanism, weight grip and aimed shot shock absorber are mandatory modifiers, and changing the barrel will slightly change the playstyle of the gun. For example, Sharp Shooter and burst allows for rushing capabilities, while Reinforced Rifling barrel and long range allows you to play in a defensive position, due to the steady recoil and higher damage. 
Variants
Notable Comparisons
Statwise, a unmodded M16A2 is IDENTICAL to a unmodded FN-FNC (except in range)
Dmg 35, Accuracy 60, Stability 55, Mobility 50, RoF 55. (Range is 48 for FNC and 45 for the M16A2.)
What makes the FNC more valuable however, are its mods, which have a significantly stronger effect on gameplay than the M16A2. which make the FNC a comparatively better gun.