Jurassic World: Dominion Dominates Fandom Wikis - The Loop
Play Sound
This article is a stub. You can help Alliance of Valiant Arms Wiki by expanding it.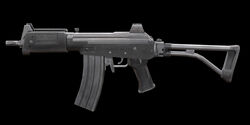 "

An SMG-classof the Galil rifle from Israel, based on the AK series. It uses the special 5.56mm X 45 NATO cartrige, which is highly effective as boron compound has been added into the propulsion powder.

"

 

— Weapon Description 
Overview
The Galil MAR is a Pointman weapon first introduced during the 06-29-11 Content Update.
It is the only weapon that features a blue muzzle flash upon firing (other than the Blue Skull Remington shotgun and the Galil Mar Amaterasu). Galil MAR is a carbine because of its 5.56x45 intermediate rounds and that it is smaller than most AR's but this is still an AR
The Galil MAR is arguably one of the more common SMG's in the game, thanks to its immediately identifiable muzzleflash but also it's fairly decent preformance. It is one of the more user-friendly SMG's, being very controlable in long bursts.
Overall, this is a good gun. It has a decent-sized magazine (35), good DPS, decent accuracy, and low recoil. It is well known for being one of the more versatile SMG's. However, what could be considered this guns biggest "flaw" is that it is not the best at what it can do; other SMG's either have bigger clips, high accuracy, lower recoil, or higher RoF.
This gun also suffers low penetration (common to SMGs), mediocre damage, a comparatively slow reload, and has a tendency to bloom quickly after a few shots. This gun is also comparatively expensive.
However, many have chosen to embrace it's overall decent preformance simply for the sake of keeping the blue flash, which is universally accepted as "awesome".
It should be noted the Galil MAR is NOT modifiable in any form.
It should also be noted that the Galil MAR has a "knockback" on the enemy, whenever you land a few hits, their crosshair will bloom and they will suffer extreme recoil when shooting. This trait makes the Galil MAR more popular to the competitive players, SA58 Para users suffer from this the most because the knockback throws off their aim. 
Modifications
There are no modifications for this weapon.
Recommended Builds
Like it said... No mod
Variants
Tips
Notable Comparison
MP5A3 If the upgrade kit is on, the Galil Mar is basically a buffed up MP5A3
Trivia
This is the second weapon of the Galil series of weapons to be in game. The first is the Galil Sniper.
Even though there are no modifications for Galil MAR, in Taiwanese AVA it feature a unique blue paint camo with cost €65000 for Permanent, separate with Original Galil MAR. 
In order to notice it's blue muzzle flare a lot more, turn your Lighting into Complex Light Source.
Gallery
GIF Gallery
Media