Jurassic World: Dominion Dominates Fandom Wikis - The Loop
Play Sound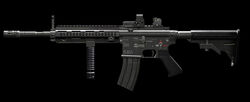 "

An improved model of the M16, adapted to house a gas piston operation mechanism similar to that of the AK series. The new mechanism allows it higher durability and reliability than those of its original cousins while retaining the excellent accuracy of the M16 series.

"

 

— Weapon Description 
The HK416 is a Rifleman weapon first introduced during the 06-24-10 Content Update.
Overview
The Heckler & Koch HK416 is a masterpiece made by the H&K company. It is a modified version of the Colt M4 with many changes, most notably a new gas operating system from the H&K G36.
This gun is not frequently seen because of its problematic bloom(If fired on for too long) and inconsistent damage, but is praised for its superior accuracy and stability while moving. This rifle's incredible accuracy also requires little use of crouching.
This weapon is extremely potent in close quarters, where one can take advantage of the moderately small spread and high ROF by bursting at an enemy's head. However, It has substandard penetration against all armor types, which causes it to take more shots to kill at all ranges compared to the M4 variants.
The 416's ultimate weaknesses are its bloom when moving, and 'jumpy' recoil caused by the fast ROF. Both hinderances makes it extremely difficult to headshot past 10-13 meters consistently. Using EG08 gloves will help reduce crosshair spread while move-shotting, which may nullify some of the spread issues. Even though recoil is mostly upwards, the first few shots will still kick.
However, if you are decently skilled with staying on target and bursting, you can use the 416 to its full effect. It's bloom recovers quickly which allows for rapid bursting.
The HK416 will take anywhere from 4 to 7 body shots at close to medium ranges to kill.
Verdict
This is great rifle to use for one to hone their skills before use of a M14EBR or SA58 Para while its forgiving accuracy, recoil and firing provides a great alternative to many popular rifles such as the M4A1 Mk. 3. While on par euro-wise to the Sako Rk.95, this rifle is much more accurate, and its recoil is much more forgiving. However, with this comes at a cost of range and this limits its actual effective range. Be prepared to have to frequent close combat situations.
Modifications
Front
Laser Sight (-0.8 Mobility)
Laser Sight MK.II (+0.3 Accuracy, +0.7 Auto Fire ACC, -1.9 Mobility)
Mount
Barrel
Burst Barrel (+0.58 RoF, -0.7 Accuracy, -0.7 Auto Fire ACC)
Sharp Shooter Barrel (+1.8 Accuracy, +1.7 Auto Fire ACC, -0.63 RoF)
Recommended Builds
Burst build (+4 Accuracy, -2 Mobility, -1 RoF)
With this build HK416behave like M16A2, has high accuracy but bad move-shot. Gun receives +4 Accuracy, but also loose move-shot capability (-2 Mobility) and DPS (-1 RoF)
Laser Sight MK.II
ACOG (x4)
Sharpshooter Barrel
Move-shot build (+6 range when scoped)
With ACOG HK416 behaves like M4A1, has good move-shot but bad spray capability.
Highest DPS (+2 RoF, -1 Accuracy)
With Burst Barrel and Dot(x2 HS) HK416 behaves like FA-MAS. Have high DPS but really bad spray capability. It is recommended to burst or tap.
Variants
Tips
The HK416 is not recommended past medium range, for even single shots cause the crosshair to jump up, making it extremely inefficient at long ranges. At close quarters, this is usually unnoticed due to the proximity of the enemy. At medium ranges, it is more difficult to use the weapon, as the recoil begins to hamper one's ability to aim. Using a scope is extremely helpful at these ranges due to only minor scoped recoil.
Notable Comparisons
M4: If the M4 had a reinforced barrel option, it would turn into an HK416.
AK74u: With high DMG but low range, this feels like a bigger brother of the AK74u.
C7a2(burst barrel): while the HK416 is more "accurate/less stable" then his "brother from a Canadian Mother" their gameplay style is very similar.
Trivia
Ingame it is fitted with a (non-removable) GripPod foregrip,though the bipod inside the grip is not useable.
HK416 was used to kill Osama Bin Laden, using 5.56mm NATO 77-grain OTM (open-tip match) rounds made by Black Hills Ammunition.
Gallery
GIF Gallery
Media