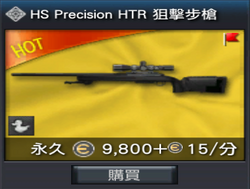 "

This gun is a derivative of the early model designed by HS Precision based on its own design concept, and HTR stands for "Heavy Tactical Rifle". Adopted as a sniper rifle by the US and Australian troops and police, the Israeli Defense Forces have adopted an improved "barracks." Compatible with 308, 338 Lapua, and 300 Winchester Magnum bullets, equipped with a simple appearance without gaps, removable rails, and a box magazine for good performance in sniping.

"

 

— Weapon description 
The HS Precision HTR is a sniper rifle that propably will be available in UAVA.
Mods

Mount
Barrel
.338 Lapua Barrel Damage +25.0, Control -9.6)
Sharpshooter Barrel (Damage +15.0, Range +0.4, Accuracy +0.1)
Trigger
Sniper Trigger (Accuracy +0.1, Autofire -0.16)
Veteran Mechanism (faster reload)
Grip
Ergonomic Grip (Accuracy +0.1)
Weight Grip (Control +16.1, Mobility -0.8)
Special modifications
Only obtainable by completing challenges
Over 1000 Kills with Use HS Precision HTR:

Special Sniper Trigger (Accuracy +0.1)
More than 3000 hits on the leg with Use HTR Precision HTR:

Media