"

Added RFB to support bullpup style ammo fire. This weapon uses the powerful 7.62mm x 51 NATO ammo.

"

 

— Weapon description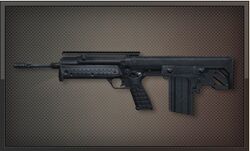 Introduced in 12-05-12 Content Update.
Overview
The Kel-Tec RFB is a single shot rifle, and is classified as a battle rifle, due to it using 7.62 X 51mm NATO. The Kel-Tec RFB is compatible with FN FAL magazines. In AVA this weapon, when unmodded, is a single shot rifle with huge penetration and damage behind each shot. With the trigger, the Kel Tec would very much function like an SA58 Para, with the only exception of the RFB having V shape recoil instead of the SA58s vertical recoil pattern and of lower RoF. The stability of the Kel-Tec is much worse when using the full auto trigger, causing it to bloom faster.  
Modifications
Mount 
Trigger
3 Shot Burst Trigger (Control +0.2)
Automatic-Fire Trigger - Makes weapon Fully Automatic
Recommended Builds
Unmodded this gun is perfect tapping headshot machine but hard to use in close range.
With Automatic-Fire Trigger this weapon is harder to tap but a lot better in close range.
Depends on your headshot marking skills you should use one of those mods.
Variants
Tips
Like guns such as the Para or M14, the Kel-Tec boasts incredibly high damage yet incredible recoil. It is recommended to tap slowly while holding shift or control, as moveshot-accuracy is even worse than the Para. About 3-4 shots to the chest should kill the enemy.
Due to the precise accuracy of the rifle during movement, it is recommended to fire controlled two-shot burst in both short and long range combat. The bloom worsens dramatically after the third shot during full automatic fire.
I personally fire using the 3 shot burst mod; the recoil can be harsh, but with the burst mod I can take out an enemy without spending time slowly tapping. With a 2 shot burst method you can fire a shot at stomach, and the next bullet should hit their head.
    -SHADE641

After the Anti-Macro patch, the bloom of the gun has increased. Move shoting with this gun should be avoided. Crouching or standing is recomened slowing tap speed for long range, faster tapping mid range and for close range tap as fast as possible. At point blanc range burst fire. I would recomend to use automatic trigger as it allows the gun to be far more versitile in both long range and short range.
        -ArCtiCoRe (2017)

Notable Comparisons
SA58 Para
Compared to the SA58 Para, The only advantages the Kel-Tec has over the Para are that the Kel-Tec is easier to tap by default, as well as having a higher mobility than the Para. Stats shows that Kel-Tec has higher stability but it has been proven false. Kel-Tec has worse penetration, lower damage, lower RoF, worse move shot, lower range, and lower magazine capacity.
M14EBR
Compared to the M14EBR, Kel-Tec is easier to tap because of lower bloom while tapping and no Automatic-fire trigger by default. It has higher damage, mobility, RoF and DPS than the EBR. It is also unlocked at lower rank. The Kel-Tec is better at close range then M14, but at medium/long range the M14's range, accuracy and stability makes up for every disadvantage over Kel-Tec. M14EBR can make head-shots at ranges where Kel-Tec will get tanked a lot.
Trivia
In the game, the safety lock of the gun is seen in the "Safe" Position, but the gun can still fire.
Despite being considered a semi-automatic, there is in fact quite a significant delay between shots fired from this weapon. This greatly reduces its effectiveness.
Gallery
GIF Gallery
Media