Jurassic World: Dominion Dominates Fandom Wikis - The Loop
Play Sound
This article is a stub. You can help Alliance of Valiant Arms Wiki by expanding it.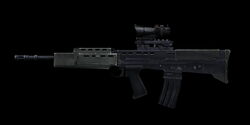 "

Improved model of the notorious L85A1. Exterior is mostly the same but the interior has greatly changed restoring reliability to an advanced level. Fine recoil control is supported though its heavy weight and accuracy is fairly high.

"

 

— Weapon Description 
The L85A2 is an Assault Rifle first introduced during 03-10-10 Content Update. A permanent version was given to Steam users, regardless of their rank
Overview
One of the first weapons to be unlocked for perm at the Trainee rank. Excellent Stability subsided by lower than average stats and a mediocre Mobility rate.

Due to its notoriously low mobility, the L85A2 is not commonly seen in-game. While having fairly average damage, range, and accuracy, it also has very high stability. Recoil is very easy to manage, but is somewhat mitigated by the weapon's crosshair spread. When crouched, the L85A2 is capable of extremely tight shot groupings. However, its moving accuracy is mediocre, and due to the gun's low ROF close range engagements are ill-advised. Because of the immense size of the weapon, purchasing the EOTech (Dot) sight is useful for reducing used screen space, however not choosing the 4X Scope will hinder your damage at range.
In practice, the L85A2 preforms much like a Light Machine Gun (LMG) in other games; It has a low movement speed, great stability and solid accuracy over range when fired in long, controlled bursts. Do note that unlike the typical LMG in other games, the L85A2 only has above-average damage and suffers in close range due to it.
There is really only one way to be effective with this weapon, put on the damage barrel and dot sight and tap shoot like crazy. Headshot accuracy even when moving is very good. I would recommend using any armor that allows you to move faster as the mobility with this weapon, as stated, is very low.
Modifications
Mount
Dot(x2 HS)
ACOG(x4)
Barrel
Long Range Barrel (+3.4 Range)
Rifling Reinforcement Barrel (+3 Damage, -0.67 RoF)
Trigger
Veteran Mechanism (+1.6 Auto Fire ACC, -1.7 Accuracy)
Stock
Recoil Control Stock
Recommended Builds
Notable Comparisons
Variants
Trivia
Since The L85A2 Released You cant Buy this Gun Anymore Its Unavailable !
Gallery
Media