Jurassic World: Dominion Dominates Fandom Wikis - The Loop
Play Sound
This article is a stub. You can help Alliance of Valiant Arms Wiki by expanding it.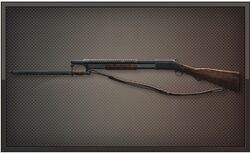 The M1897 Trench Gun is a Shotgun that is in Korea's version of AVA, as well as UAVA since the 7/3/2013 content update.
Overview
The M1897 Trench gun is the first shotgun to equip a bayonet, and is one of the few weapons to have a bayonet. The bayonet can be used by clicking Mouse1 (Right click), and is an instant kill if it hits. The bayonet has better range than melee weapons, making it a very good substitute to your knife. The rate of fire (RoF) says 30, but it surpasses even the mighty Striker 12s RoF mod, which is 48 RoF. The only drawbacks of the M1897 is the slow draw speed, which requires the bayonet to be attached and the shotgun to be pumped, and the low damage. Very effective on maps such as Black Scent, India, Fox Hunting, and Supply
Mods
Recommended Builds
Variants
Tips
Try to conserve as much ammo as possible because the M1897 can burn through the 5 ready shell quickly. 
Attempt to kill the enemy via headshot. The M1897 has a fairly small crosshair for a shotgun, similar to the blue skull's crosshair, and the first shot will be very accurate. If the enemy does not die, the next shot will finish them  off.
Reload at any given moment. Fewer shells loaded can be fatal due to the fast rof. Failure to hit an opponent can cause you to die if you do not have the M1897 fully loaded. For example, you have 2 shells loaded, miss one shot then the opponent will have a good chance of surviving the next shot. 0 shells will require reloading, and within the reloading time, a skilled opponent would have most likely killed you. 
Use the bayonet as a last resort or for stealth kills. As efficient as the bayonet may be due to the range and one hit kill, using a melee weapon in a gun fight puts you at a disadvantage.
Due to the low mobility, do not chase an opponent down and attempt to bayonet him.  
Notable Comparisons
Trivia
The reason why the M1897 can fire very fast is because of its unique feature of 'Slam Firing'. The M1897 can fire repeatedly by holding down the trigger and pumping the gun as fast as possible. 
In WW1, Germany threatened to execute any American Prisoner of war who used a shotgun. Due to the M1897's capability of clearing an entire trench with ease, it was a feared weapon. It was capable of emptying an entire 6 slug load out very quickly and could detonate enemy grenades before they could reach the shooter. 
The M1897 Trrench Gun was manufactured by Winchester.
Gallery
Media