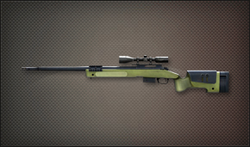 "

The M40 is a bolt-action sniper rifle designed in the mid-1960s by U.S. Marines who were modifying Remington 700s during the Vietnam War. It fires the 7.62x51mm NATO rounds from a 5-round box magazine at an effective range of up to a maximum of 1000 yards.

"

 

— Weapon Description 
The M40A5 is a sniper rifle first introduced as a preview capsule weapon on the 23rd of January 2013. In 27th February it was moved to regular shop.
Overview
The M40A5 has fairly fast zoom speed, and a very quick reload time, similar to an M24. Accuracy is poor for low-skilled snipers, but higher skilled snipers will find it is fairly accurate. Quickswitching is recommended to achieve the fastest rate of fire, as the non-quickswitch rate of fire is slower, ranging between a DSR-1 and an FR-F2. The M40A5 has incredible wall penetration, comparable to that of an AWM.
The M40A5 has incredible moveshot accuracy, albeit with significant crosshair sway, and the jumpshot accuracy is very low and is not recommended. The gun comes with 4 different scopes: a quick scope, high-magnification scope, sharpshooter scope, and precision scope, with the sharpshooter scope having the fastest zoom-in time.
This gun has a moderately high 1-hit kill percentage, around 85% to the chest (These stats are after the M40's nerf Range from 92 down to 87). Its high penetration allows it to punch through armor fairly well, although limb shots will mostly result in not 1-hit killing the enemy. Longer ranges will also cause the M40A5 to tag quite a bit. This makes little sense, since the M40 is a short bolt gun and can only utilize 7.62x51mm NATO, while the M24 can take higher loads. It should be noted that the 7.62x51mm NATO is the same round fired by the Para and M14.
Another feature that is not consistent with the ability of the weapon is its mobility: stats say 13, but has pretty fast movement in-game.
Modifications
Mount
Precision Scope
Quick Scope
Sharpshooter Scope
High-powered Scope 2
Recommended Builds
The Sharpshooter Scope is highly recommended: fastest zoom time, and it does not automatically zoom in after firing.
One Hit Kill %
Notes:
14 Armor equipped
10 shots per distance
Shot at the arms
Barrel: None 
Tips
Noscoping is very efficient on this weapon so hip-firing is advised when you cannot scope, crouching improves no scoping accuracy.
The moveshot on this weapon is excellent so strafing is advised. 
Notable Comparisons
Gallery
GIF Gallery
Media