Jurassic World: Dominion Dominates Fandom Wikis - The Loop
Play Sound
This article is a stub. You can help Alliance of Valiant Arms Wiki by expanding it.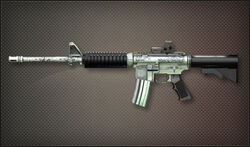 "

A custom variation of the M4A1 with higher resistance to abrasion and accuracy. Its frame and barrel are made of a special alloy steel, and the other parts are coated with chrome.

"

 

— Weapon Description 
The M4A1 Chrome is a Rifleman weapon introduced in the 09-09-10 Content Update. It is a Capsule Shop variant of the M4A1.
Overview
The M4A1 Chrome can only be purchased in the Capsule Shop for AP, rendering it a fairly rare weapon. It features an increase in damage, stability, and rate of fire at the cost of a little less range. It also features an integrated Holographic sight.
Generally people will drop this weapon in favour of the MK.3 or the Carpio as they boast good shot grouping even when spraying/bursting. The Chrome is a different flavor of weapon. Think of the Chrome as the Rifleman's answer to high ROF Pointman weapons. It's essentially a fusion of Galil MAR and M4A1 with High ROF and grouping similar to the stock M4A1. But in the other side, if you get mastered with the SA58 Para, the Chome is exactly the same way to use. Tapping 3-5 shots, and aim the foe's neck, and you will find this gun can easily do head-shots. Use this gun skillfully , and you will find out the Chrome may be very useful and deadly, possibly reach the top of the M4A1 series, and among the MK.3 series. The M4A1 Chrome can be modded to M4A1 Chrome 2014, which basically makes it into an Mk.4 in trade for some ROF.
Modifications
Modifications
Barrel
Sharpshooter Barrel Increases accuracy. +1.6 accuracy, +1.5 auto fire accuracy, –0.52 auto fire
Burst Barrel Increases rate of fire but decreases accuracy. –1.5 accuracy, –1.2 auto fire accuracy, +0.28 auto fire
Trigger
Mechanism improvement Rate of fire increases but accuracy decreases. –1.2 accuracy, –1.0 auto fire accuracy, +0.28 auto fire
Custom Trigger Mechanism Custom Trigger decreases fire recoil. +0.3 recoil control, –0.32 auto fire
Grip
Weight Grip Stabilizes the weapon but increases in weight. +0.1 recoil control, –0.7 mobility
Ergonomic Grip Better handling increases accuracy. +1.5 accuracy, +1.3 auto fire accuracy
Recommended Builds
M4A1 Chrome 2014 Upgrade Kit
Tip
The Chrome is a tricky gun to master, even for the best of shooters, as there are so many routes you can take with this gun. The most effective all-round ways of using it I have found are:
In CQB, sprays of 7-8 shots at neck height, drag gun down as recoil makes it rise.
In Mid-Range, side to side strafe and 3-4 shots bursts with slight down drag OR tap shoot.
In Long Range, crouch and tap shoot, aim for the head.
Variants
Notable Comparisons
M4A1 (similar shot groupings)
Trivia
Gallery
Media