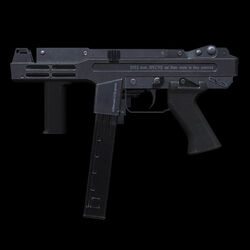 "

Compact SMG developed in 1980 in Italy. Design itself is a bit old fashioned but the shape that awes with unique charisma and 50 rounds massive cartridge are truly distinguishing character.

"

 

— Weapon Description 
Overview
The M4 Spectre is a Sub Machine Gun introduced during the 06-14-10 Content Update and is considered to be among the worst weapons in AVA. Although it possesses decent damage and decent range, its recoil and bloom combination hinder its CQB full auto capabilities and make it less then ideal for most point men.
That being said, once the weapon is mastered and modded it becomes a quite capable weapon with exceptional suppressing fire capabilities for a point man weapon. However, without much experience, it is quite useless and limiting. The overall recoil of the M4 Spectre is quite similar to the rifle man's M16A2.
It is also notable as being the only known point man weapon with a Shock Absorber Stock available to it.
Modifications
Barrel
Burst Barrel (-0.1 ACC, -0.1 AutoFire ACC, +0.64 AutoFire)
Advanced Silencer (Takes away range penalty when using silencer)
Trigger
Mechanism Upgrade (-0.1 AutoFire ACC, +0.64 AutoFire)
Grip
Soft Grip (-1.3 ACC, -1.0 AutoFire ACC)
Carbon Grip (+0.1 ACC, +4.9 AutoFire ACC)
Stock
Shock Absorber (+3.0 ACC, +2.5 AutoFire ACC)
Recommended Builds
Beginner's Build:  (Soft Grip -OR- Shock absorber)
ROF Build (BBarrel, ROF Trigger, Shock Absorber, Aimshot Grip)
SD Build (STBarrel, ROF Trigger, Shock Absorber, Soft Grip)
Variants
Tips
The M4 Spectre has 2 main Problems: Inadequate RoF for CQB performance, and bad weapon stability for longer ranges. As a Result, one must choose whether they would attempt to fix the first problem, the second, or a combination of both.
To improve CQB: Slap on all of the RoF Mods
To improve Range Combat: Slap on the SA Stock
When modded well, the weapon feels like a Point Man derivative of the M16A2 with Range Barrel.
&Although the accuracy stat is absurdly low, just like the M16A2 the weapon can amaze with well articulated headshots especially due to its high Range and decent overall damage.
Notable Comparisons
UMP45  - The M4 Spectre has similar stats and performs comparably, while having 2 times more of the ammunition
Aug A2 Commando - The Aug has superior Recoil Control, ROF and Scope, The M4 Spectre has More ammo and less Bloom
Calico M950 - The guns have many similarities, but the Calico is slightly better at range, while in CQB a well modded M4 Spectre can win due to less bloom.
Trivia
It should be noted that this gun has a nickname in Korean AVA which directly translates to "The Dove", for the gun's general inability to kill quickly.
The M4 Spectre is one of the cheapest weapon in the game. It costs only 999 AP or 37,000 euros.
Gallery
GIF Gallery
Media