Jurassic World: Dominion Dominates Fandom Wikis - The Loop
Play Sound
This article is a stub. You can help Alliance of Valiant Arms Wiki by expanding it.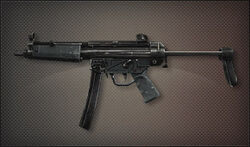 "

MP series of Heckler & Koch is probably the most popular SMGs since the World War. Great number of special forces, police, and armies all over the world employ this series for its compact size, strong power, and renowned reliability. It has achieved enhanced accuracy and stability by adopting HK's unique sealed-breechblock unit and delayed blowback mechanism.

"

 

— Weapon Description 
Overview
The MP5A3 is the default issue submachine gun in ijji AVA. It has fairly low damage, low ammunition capacity, and a low amount of ammunition per magazine. Although this makes it a difficult weapon to use, one could argue that its difficulty forces players to develop and rely on their skills instead of the weapon, which is excellent practice for when the player later uses "easier" weapons. Despite its shortcomings, the MP5A3 is still a hardy, usable SMG and can do the job as well as any other Pointman weapon so long as it is used properly. It has little bloom (although it has low starting accuracy), a blazing rate of fire, and can kill much more quickly then many riflemen rifles. When going full automatic, it does not bloom much, and recoil is easy to control, ensuring quick kills in close quarters. For best results, it is encouraged to take advantage of the weapons mobility to make accuracy less of an issue, and to reload often, as its low magazine capacity is somewhat helped by an fairly fast reload.
It should also be noted that this is a slightly (though negibly so) comparatively cheaper weapon to repair than most other weapons.
The MP5A3 actually is a decent gun when used in Prison Break: Survival, where its high mobility can be used to its fullest. Do note its short clip will force frequent reloads, however.
Modifications
Front
Upgrade Kit (+1 Damage ,+5.7 Accuracy, Auto ACC +4.7 ,+5 Ammo)
Barrel
Burst Barrel (-0.8 Accuracy ,Auto ACC -0.3, +0.69 ROF)
Sharpshooter Barrel (+1.4 Accuracy , Auto ACC -0.3, -0.72 ROF)
Trigger
Custom Trigger (+1.3 Control ,-0.37 Auto Fire)
Precision Trigger (+1.6 Accuracy ,+1.4 Auto ACC)
Stock
Shock Absorber (+2.6 Accuracy ,+2.5 Auto ACC)
Recommended Builds
Variants
Notable Comparisons
Trivia
Some players use an attachment which increases the ammmunition capacity of the MP5A3, and therefore boosts the threat of the weapon. However, this option is not available in the ijji AVA
The MP5 was developed based on the G3 and its concept of roller-delayed blowback, which makes for a strong resemblance.
Gallery
GIF Gallery
Media