This article is a stub. You can help Alliance of Valiant Arms Wiki by expanding it.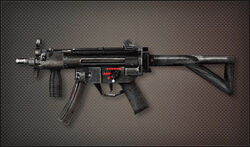 "

K stands for 'Kurz' which means 'Short' in German. Having enhanced portability compared to standard MP5, MP5K was specially developed for operations in small spaces. MP5K-PDW is a further improvement of MP5K. This piece was developed at a time when HK was involved in PDW project (NATO). MP5K-PDW has modified folding butt plate and evidences of strenuous efforts in designing can be noted in its portability and stability.

"



 

— Weapon Description 
The MP5K-PDW is a Sub Machine Gun that is available to the Point Man Class.
The MP5K-PDW is a submachine gun that is available only to the Pointman class. It possesses excellent mobility and also has a high rate of fire. Although its damage is an abysmal 28, its recoil is extremely controllable and the spread is minimal and makes for easy handling for new players. As a result, shooter accuracy is greatly maintained regardless of how accurate the weapon itself is. In order to preserve what little damage it has, it is highly recommended to use the weapon at very close ranges, as its range is low as well, which further diminishes the already low damage very rapidly. It is one of the three weapons given to starting players as a temporary weapon (the others being the M4A1 and the SV98). When bought, it can be upgraded to the MP5K Rail (at a small fee) to allow for various modifications and attachments.
Its high rate of fire coupled with low damage also means that ammunition is expended very quickly, even with a moderately-sized 30 round magazine. At medium ranges, the player may find him/herself using up the entire magazine for just one or two kills. Using long bursts of 6-8 rounds will often produce the best results around close range, while bursts of 3-4 are recommend for longer ranges.
Since it is of Ducky rank, it is one of the few rentable weapons in ijji AvA. It can be upgraded and customized at a dramatically lower price than when purchased permanently.
In AVA SEA however, the MP5K-PDW (as the MP5K Rail) is the default gun for the Pointman class, replacing the MP5A3 on other versions.
Many people don't like this gun because it's a low-rank gun and expect that it's garbage. But it's actually (one of) the best Pointman weapon for Ducky ranks along with Uzi.
Modifications
Edit
Front
Laser Sight (-0.7 Mobility)
Mount
Dot(x2 HS)
Trigger
Stability Upgrade (+1.7 Control, -0.42 RoF)
Mechanism Upgrade (-0.1 Auto ACC, +0.78 Auto Fire)
Grip
Silicon Grip (+0.4 Auto ACC)
Human Engineered Grip (+1.1 Accuracy, +1.1 Auto ACC)
Recommended Builds
Edit
Notable Comparisons
Edit