Jurassic World: Dominion Dominates Fandom Wikis - The Loop
Play Sound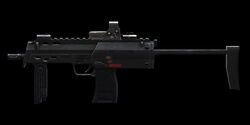 "

A new-concept SMG designed and manufactured by H&K. The light-weight 4.6mm rounds fired at ultra-high muzzle velocity provide more than enough penetrating power to overcome kevlar. It boasts good accuracy from a gas operation system as well as the easy handling of a pistol.

"

 

— Weapon Description 
The MP7A1 Origin is a Sub Machine Gun first introduced in the 12-09-10 Content Update.
Overview
The MP7A1 is a rather weak weapon in terms of damage-per-shot. By comparison, its damage is as low as the MP5K-PDW. However, it makes up for that by being extremely mobile, having the second highest rate of fire in UAVA (seconded only by the M249 Red Tiger), and having among the lowest amounts of recoil in the game- although it's nowhere near a F2000 or the M4A1 MK.3 (most likely to balance out it's blazing fire rate). It also has one of the highest magazine capacities for a weapon in its class; though due to aforementioned RoF it disappears quickly. Nonetheless, it is still one of the easiest weapons in the game to control. If used in the right hands, it can turn into a devastating SMG that can excel in close to medium range combat. The MP7 has rather decent penetration (For a SMG), this is because it fires a 4.6x30mm which is designed to penetrate body armor.
Along with the SR-2M Veresk (and to a lesser degree, the AKS-74U), the MP7A1 is considered a "Top tier" weapon of the Pointman class. It should be noted that out of the three, the MP7A1 is the only one capable of utilizing a silencer, and is also considered the most user-friendly of the trio, due to it's extremely low recoil.
Note that, even when using the advanced silencer, equipping a silencer decreases penetration to absolute 0. Shooting through any obstacle becomes impossible.
In an update in late 2016, the MP7A1 was replaced with an upgraded new, euro-metered version, and this one got the name "Origin". Ever since then, there has been no way of purchasing this version.
Modifications
Front
Laser Sight (-0.7 Mobility)
Mount
Dot(x2 HS) (No stat change)
Barrel
Adv. Silencer (No damage dropoff when a silencer is attached, it is not recommended since reduce penetration to zero)
Burst Barrel (Accuracy -0.8, Auto Fire ACC -0.5, Auto Fire +0.90)
Sharp Shooter Barrel (Accuracy +1.4, Auto Fire ACC +1.2, Auto Fire -0.94)
Trigger
Mechanism Improvement (Auto Fire ACC -0.5, Auto Fire +0.90)
Precision Trigger (Accuracy +1.7, Auto Fire ACC +1.5)
Light Weight Trigger (Accuracy +0.4, Auto Fire ACC +1.2)
Grip
Silicon Grip (Accuracy +0.3, Auto Fire ACC +0.8)
Ergonomic Grip (Accuracy +1.1, Auto Fire ACC +0.9)
Recommended Builds
Boost Rate of Fire (Close Range)
Burst Barrel + Mechanism Improvement + Ergonomic Grip or Silicon Grip
Pros:Greatly boost rate of fire
Cons:Less accurate at mid range
Notes: Ergonomic Grip vs Silicon Grip
Ergonomic Grip- Less Bloom, More side to side recoil
Silicon Grip- More Bloom, Less side to side recoil

This build is more for the people that loves to spray. Also a better build order for Infection.
Boost Accuracy (Close - Mid Range)
Sharpshooter Barrel + Precision Trigger + Silcon Grip
Pros:Greatly boost accuracy, better handling
Cons:Rate of fire dropoff

This build will have good control and accuracy which can lead to easy, consecutive headshotting.
Stealth (Close Range)
Advanced Silencer + Mechanism Improvement + Silicon Grip
Pros: No damage or range damage penalty when using silencer, slightly boost tapping accuracy and rate of fire
Cons: None

This build will help stealth action such as flanking, avoid being detected on enemy radar. It's suitable the most for tactical-based match (Demolition, etc.) Just use this build if a silencer is needed frequently.
Variants
Tips
The MP7A1 is best used when aimed at the neck line, as this balances the bullets either striking the head, or the body. This allows the player to take advantage of the rate of fire, because normally, the MP7A1 takes up to 3 headshots to kill somebody. Some of the bullets will hit the body, and maybe one or two will hit the head. This makes for a very quick kill if you have good enough aim.
Behind enemy lines use silencer. It will lower damage and range but youll became harder to find and hunt down
At mid-range always burst
NEVER engage enemy at long range.
When facing Rifleman at mid-range burst while moving. Crouch is not recommended.
Notable Comparisons
SR-2M Veresk w/Ammo mod (+10 ammo, -2 Mobility)
The MP7A1 has negligibly higher Accuracy (42 to Veresk's 40) MUCH higher stability (44 to 28), negligibly higher mobility (92 to 90, assuming the Veresk uses the Ammo Mod.), and a much larger clip (40 to Veresk's 30, again assuming the Ammo Mod.) It also has a Laser sight mod (+1 Acc, -1 Mobility) not available to the Veresk.
The Veresk has MUCH higher Damage (33 to MP7's 27), and negligibly higher range (22 to 20). Also, since the RoF is the same and dmg is higher, the Veresk has a higher DPS. Though no stat defends this, it is often perceived that the Veresk has higher Penetration.
Although they have the exact same RoF (81), the MP7's RoF does not drop when using the scope, and (depending on which barrel is used) usually fires 0.5 bullets per second faster, whereas Veresk's problematic recoil and bloom need to be dealt with by bursting, further disadvantaging it.
The MP7A1 has negligibly higher accuracy (42 to AK74u's 40), MUCH higher stability (44 to 28) MUCH Higher mobility (92 to 70) and MUCH higher RoF (81 to 65). It also has a larger clip (40 to 30).
The AKS-74u Has MUCH higher damage (36 to 27) and MUCH higher Range (30 to 20)
They have no stat-based traits in common.
Trivia
This gun is used by bots in " Cannon: [AI] Demolition."