This article is a stub. You can help Alliance of Valiant Arms Wiki by expanding it.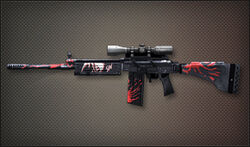 "

Modified version of Galil Sniper utilizing advanced bullets from Finland. Supports improved firepower and range.

"

 

— Weapon Description 
The Mad Galil was released on the 8/12/2010 content update. Being the first actual capsule shop Sniper Rifle available in UAVA.
Overview
The Mad Galil is a modified version of the classic Galil Sniper.While it being the first actual capsule shop sniper, many players raced to win the jackpot. Unfortunately, the popularity of this weapon quickly decreased, leaving it to be just a name and a number in the capsule shop.
Pros:
The Mad Galil (as is the Galil Sniper) is known for its high rate of fire and high ammo capacity. Other than mobility, all other attributes are higher than that of a normal Galil Sniper. The most notable is its damage: raised from a 70 to an 85. With that damage you can easily kill an enemy shooting from the chest to up, but you must shoot the way I explain in Tips section.
Cons:
The Mad Galil is very unstable and can lose control easily under sustained fire. Compared to other sniper rifles, this sniper appears to be weak in terms of stability and mobility, two attributes which could mean the difference between life and death.
Modifications
There are no modifications for this weapon.
Recommended Builds
There are no modifications for this weapon.
Variants
Tips
This weapon is best used in annihilations and escorts due to its large magazine capacity. For other modes, it is best used as a suppressing fire weapon.
When using the scope, do not hold down the mouse, instead; do semi automatic fire to sustain best stability and accuracy.
Notable Comparisons
Galil Chrome
Trivia
Gallery
Media