This article is a stub. You can help Alliance of Valiant Arms Wiki by expanding it.
"

Russia's special-purpose rifle that uses 9mm x 39 subsonic rounds. It is developed with the use of a silencer in mind, and, due to their heavy weight, bullets lose less kinetic energy as they travel.

"

 

— Weapon description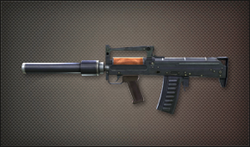 The OTs-14 Groza is an Assault Rifle first introduced first introduced the 27th February 2013 Content Update.
Overview
The OTs-14 Groza is currently one of two assault rifles to come with an integrated silencer, the other being the RX4-Storm .
Advantages
Despite the modest damage of 35, Groza actually ignores the armour and helmets to some extents, doing actually more damage than written in the description.
Modifications
Barrel
Burst Barrel (+0.26 RoF , -1.1 Accuracy, -1.0 Auto Fire ACC)
Long Range Barrel (+5.2 Range)
Reinforced Barrel (+4 Damage, -0.39 RoF)
Recommended Builds
Long Range Barrel ll (+2 Range)
OR
Reinforced Barrel (+3 Damage, -1 Rof, -1 stability)
Tips
Close Range - Spray at head
Middle Range - Short but fast burst at head
Long Range - Crouch and tap, if possible aim at head
Variants
Notable Comparisons
RX4-Storm
The RX4-Storm has a slightly higher range (50 vs 47), a slightly higher accuracy (77 vs 76), higher ammo per magazine(30 vs 20) and is more able to modify. The OTs-14 Groza has a slightly higher damage (35 vs 33), much higher stability (55 vs 38), higher mobility (55 vs 50), and much higher ROF (65 vs 46).
Trivia
The OTs-14 Groza is considered one of 4 best assault rifles in KAVA. But in AVA it feels more like a weaker AMD65.
The OTs-14 Groza is regarded as one of the best assault rifles in KAVA because of the integrated silencer. The Groza is the only practical silenced assault rifle in the game, and allows riflemen to stay off the radar. This weapon is more practical than the RX4-Storm, and can be used in either stealth play or flanking. The rifle is also extremely accurate because of the small crosshairs. Due to the silencer, the gun does not bloom very quickly, allowing the crosshair to remain fairly small during sustained fire. 
Gallery
Media