This article is a stub. You can help Alliance of Valiant Arms Wiki by expanding it.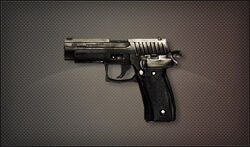 "

Sig-Sauer P226 is an improved version of P220, and is one of only two pistols that passed US's XM9 test. Although Beretta 92SB-F was selected in the end, it didn't take long for P226 to become the most popular sidearm in police forces and national troops. Supplied P226 is a Tactical version which can equip silencer.

"

 

— Weapon Description 
Overview
A starting weapon that beginners tend to purchase, since it's ducky rank and the cheapest weapon in the entire game.
The P226 is an extremely weak weapon in comparison with many other Euro-based secondaries, and should only be bought if money is an issue and necessity mandates it. Unless one can hit the head two or three times in quick succession, it is extremely difficult to get a kill on an Pointmen or Riflemen who has more then half health, as 99% of their weapons have a significantly higher DPS then a starting pistol. Snipers are slightly more susceptible to this weapon, if only by luck or virtue of stealth. One can sneak in and quickly dispatch camping snipers in close range if they aim for the head for an execution-style kill. Other then that, if a sniper (or anyone) should detect the would-be assassin, they are more then likely to kill the wielder of the P226.
The P226 is considered the worst secondary in the game and is effectively a weapon of desperation, but it does do its job; finishing off weak opponents when reloading a primary weapon.
It is strongly recommended to purchase another sidearm, as any of them will outperform the P226. If money or rank is a concern, the Glock and Skorpion boast significantly higher performance at a slightly higher price.
Tips
Trivia
Despite lack of performance this gun can potential out-gun MK23 SOCOM because of its low draw time.
Gallery
GIF Gallery
Media