Jurassic World: Dominion Dominates Fandom Wikis - The Loop
Play Sound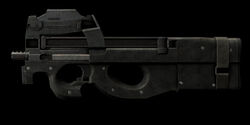 "

A custom variation of the P90 with improved stability. Its stock has been replaced with a special material that automatically distributes the traction of unpredictable recoil.

"

 

— Weapon Description 
The P90 is a Pointman weapon first introduced when Alliance of Valiant Arms became live.
Overview
It comes with a 50/50 magazine. Its main attributes are accuracy (for the first 5 shots), high capacity (which negates the need to reload frequently), and extremely low recoil. However, it does possess relatively low damage and its crosshairs spread out fairly widely and rapidly, making it a strictly CQC weapon when used on fully automatic. The worst trait is the problematic bloom when moveshotting as well as low DPS, making it easily outgunned when you and your enemy start firing at the same time. It should also be noted that the P90 has an unique scope built into it, though there are mixed reviews as to how benefitial it is.
When using the P90 it is highly recommended to fire in five shot bursts between 5m and 15m away, as the bloom does not pick up until the 5th shot and this guns accuracy and stability can allow consecutive headshots from that distance. Like the TAR-21, if one can burst this weapon, performance with this weapon will increase.
When equipped with a supressor, the P90 loses significant range, but the damage loss is negligible since the P90 innately comes with low damage, making it a good gun when used as a stealth weapon in close range combat, especially when flanking, as the supressor nullifies the damage direction pointer. This playstyle is best utilised with the P90 TR however, as it can equip an advanced supressor. However, the suppressor may modify spread, and (UNCONFIRMED) may also cause bullets to hit mainly at the edge of the crosshairs.
Some argue that the original P90 is superior than its upgraded form (The P90TR) due to the lower recoil and spread the P90 has, which is supposed to be the P90 series' greatest strength. The popular counterargument is that the P90TR is a overall better gun once the player gets used to the recoil. Ultimately, It comes down to personal preference.
P90 TR
The P90 TR is a customizable version of the P90. It comes with a different scope and can be attached with various grips, barrels, sights, and more. However, modding the weapon to TR will increase bloom and recoil. Interestingly, it will also decrease the repair cost for this weapon, most likely because the user will most likely spend money on modifications.
Modifications
Front
Laser Sight (-0.7 Mobility)
Mount
Barrel
Burst Barrel (-0.7 Auto ACC, -0.8 Accuracy, +0.76 Auto Fire)
Top Class Sub-laser (No damage dropoff)
Trigger
Veteran Mechanism (-5.7 Auto ACC, -6 Accuracy)
Lightened Trigger (+0.5 Auto ACC, +0.1 Accuracy)
Recommended Builds
Variants
Tips
Notable Comparisons
Trivia
In AVA SEA,KAVA,JAVA, P90 named P90 MK.2 with same stat,no mod and "easy" logo with it
Gallery
Media