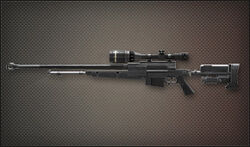 "

A precision sniper rifle designed by the Swiss and manufactured in France. The use of a bolt action mechanism gives it outstanding reliability and excellent accuracy, while the .338 Lapua Magnum cartridge offers maximum firepower.

"

 

— Weapon Description 
The PGM.338 is a Sniper Rifle first introduced during the ???? Content Update.
Overview
The PGM.338 was a highly anticipated sniper rifle with the first appearance of the .338 Lapua Barrel 2 mod, which will rack up 114 points of raw damage, surpassing the TPG1's long standing 110 damage per shot. The PGM.338 also has a faster scope speed thanks to scope mods and the possibility of using a precision scope instead of the high magazine for close range combat or quickscoping. However, PGM.388 also regains the dreadful trait of auto-zooming after every shot, which leads to Quick-Switching for a faster ROF and total Mobility.
The sniper rifle is designed for very long range combat by default because of the scope's high magnification; therefore it is 'easier' to aim at enemies who are farther away.
This sniper rifle is one of the 'true' snipers, in that all of its statistics are focused on ones that are important for snipers: damage, range, and accuracy. The PGM.338 can be modified for nearly 100 accuracy and be modified to 114 damage. It also has high range to boot, so this weapon's main purpose is sniping from a distance. It also has a really high price at 59,000 euros, but for its unbelievable strength and range, it is worth the price.
Trivia
Unmodded, the PGM.338 will tend to tag a fair amount, despite its 99 damage.
With the .338 Lapua Barrel II, limb shots tend to 1-shot opponents.
Modifications
?????
Tips
The PGM.338's stats make it well suited for defensive gameplay.
The PGM.338 has horrible moveshot- stop moving before trying to shoot the enemy!
Quickswitching allows the PGM.338 to fire much faster, almost as fast as an FR-F2.
Trivia
The gun is made by PGM Precision, a French gun manufacturing company. The rifle's full name is PGM Mini-Hecate, chambered in the .338 Lapua Magnum cartridge.
Although PGM.338 has a high raw damage, the Tag rate of this weapon is slightly higher than other Sniper Rifle.