Jurassic World: Dominion Dominates Fandom Wikis - The Loop
Play Sound
This article is a stub. You can help Alliance of Valiant Arms Wiki by expanding it.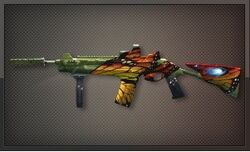 "

A custom weapon of the RX4 series with improved ability. It resembles the Giant Butterfly and the royal brand Raffin's design.

"

 

— Weapon Description 
The RX-4 Raffin is an assault rifle first introduced on the 17th of April for the Capsule Shop as a Euro capsule. It is a custom variant of the RX4-Storm.
Overview
A capsule version of RX4-Storm sporting a snazzy butterfly paint job. It has increased damage, accuracy and stability compared to RX4-Storm, while maintaining the integrated silencer, therefore masking the shooter from the radar.  It has the deadly laser accuracy of SG556 and the low recoil of M4A1 MK.3, making it very sprayer-friendly. It may be considered as the best suppressed weapon because of its performance.
The RX-4 Raffin has two downfalls to the original RX4 and that is the ability to customise and it lacks -1 in mobility neither of which are very important as even with the customisation the original RX4 would not be able to match up to this capsule version. The -1 mobility is not very significant either as this gun is not a rush gun and so does not require the mobility of a SA58 Para or a Famas, another noticable factor of the capsule version is the fact that it can hold its own in firefights better than the original RX4 due to the huge +5 damage which significantly increases its dps and furthermore better than the OTs due to a larger mag size and so is much more forgiving and can also last in prolonged firefights considering that the aim of the user of both weapons are the same.
Inscope action is peculearly diffrent from normal operation, simmilar to ak107/ak200/HK416 Mjolnir  in that almost no recoil/bloom is detectable for the first 3-5 shots
Modifications
None 
Recommended Builds
Variants
Tips
Tap and burst in quick succession to get the best effects for enemies that are 15m beyond due to its extreme accuracy and good range
Spray if the enemy is closer than 10m as the gun is very forgiving for the first 5-10 shots, afterwards recoil kicks in and bloom happens rapidly so it is not recommended to spray further than 10m as hardly any shots will connect.
Remember that with this gun you can engage enemies at long ranges due to great accuracy and range so damage drop off is slow.
Since this gun has a very good hipfire crosshair (like RX4 Storm or Sidewinder), it is much easier to get moving headshots at close to medium range.
NEVER JUMP WITH THIS GUN. The bloom will be very hard to control if you jump with the Raffin.
Notable Comparisons
Trivia
It comes with a 2x dot sight,and has a chrysanthemum icon in the center.
Gallery
Media