Jurassic World: Dominion Dominates Fandom Wikis - The Loop
Play Sound
This article is a stub. You can help Alliance of Valiant Arms Wiki by expanding it.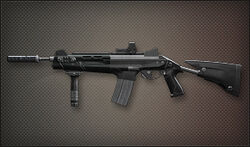 "

A high-reliability assault rifle with an automatic gas pressure control system. Its operator-friendly design lends it excellent handling. A variation with a stock silencer is well-suited for a covert operation.

"

 

— Weapon Description 
The RX4-Storm is an Assault Rifle first introduced during the 01-19-11 Content Update.
Overview
The RX4-Storm is currently one of two assault rifles to come with an integrated silencer, the other being the OTS-14 "Groza" .
The RX4-Storm has good accuracy and range, has an average mobility, stability, low damage and fire speed. In terms of performance it acts like a weaker but more controllable AK74M. It is good for long range, great for stealth/night type combat. It must be tapped or bursted at all times, preferably while crouching.
The Storm has a very low DPS which could be somewhat enhanced by mods, so not taking advantage of its silencer may result in poor performance. However, when used properly this gun is well suited for pulling off consecutive headshots thanks to its consistantly high precision and easily controllable recoil.
Modifications
Front
Laser Sight ( -0.8 Moblility)
Laser Sight II (+1 Accuracy, +2.1 Auto Fire ACC, -1.9 Moblility)
Mount
Barrel
Heavy Barrel (+3.3 Range, +1.8 Accuracy, +1.1 Auto Fire ACC -1 Stability, -0.67 RoF)
Sharpshooter Barrel (+2.7 Accuracy, +1.6 Auto Fire ACC, -0.43 RoF)
Reinforced Barrel (+4 Damage, -0.67 RoF)
Trigger
Mechanism Improvement (+0.48 RoF, -1 Auto Fire ACC)
Custom Trigger (+0.5 Stability, -0.26 RoF)
Precision Trigger (+2.3 Accuracy, +1.5 Auto Fire ACC)
Bold highlighted modifications are the recommended modifications.
Builds
There are a few recommended builds for the RX4-Storm.
Notable Comparisons
OTs-14 Groza

The RX4-Storm has a slightly higher range (50 vs 47), a slightly higher accuracy (77 vs 76), higher ammo per magazine(30 vs 20) and is more able to modify.
The OTs-14 Groza has a slightly higher damage (35 vs 33), much higher stability (55 vs 38), higher mobility (55 vs 50), and much higher ROF (65 vs 46).
Tips
Variants
Trivia
Gallery
Media