Jurassic World: Dominion Dominates Fandom Wikis - The Loop
Play Sound
This article is a stub. You can help Alliance of Valiant Arms Wiki by expanding it.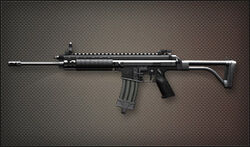 "

A new generation of assault rifle, which can take bullets of various caliber, using modular parts. This rifle is durable and has a reliable firing mechanism. Heavy breechblock and gas-operated mechanism of the AK series were applied to develop this rifle.

"

 

— Weapon Description 
The Robinson XCR is a rifle first introduced during the 04-14-11 Content Update.
Overview
The XCR is a relatively average assault rifle compared to others of the same caliber. However, it does possess a relatively slower rate of fire.
It is remarkable in the fact it has insanely high Penetration, able to go through most walls (and armors) without issue. Though unconfirmed, it feels as though the penetration is on par with some Sniper Rifles. Thus, headshots are not as relevant, as it can destroy enemy armor just as easily.
Although it is not as widely used as many other guns, the Robinson XCR possesses very high reliability despite its balanced stats. Its stability is acceptable when controlled, and its high penetration can kill enemies through walls. So if your target disappears behind glass or wood, blast right through.
Its Now A Little More Popular Because you can Buy This Gun For 30 Days For Only 7500 € !
Modification
Mount
Dot Sight(x2 HS) (+3 Accuracy)
ACOG Sight(x4) (+6 Range)
Barrel
7.62mm x39 Barrel (+3 Damage ,-1 ROF)
6.8mm SPC Barrel (-2 Damage ,+1 ROF)
Trigger
Mechanism Improvement (-1 Stability ,+1 ROF)
Custom Trigger (+2 Stability ,-1 ROF)
Precision Trigger (+1 Accuracy ,-1 Stability)
('Bold' are Recommanded build)
Recommended Builds
This is the only promising build for Robinson, good RoF and penetration makes up for bad DMG
Dot Sight(x2 HS)
6.8mm SPC Barrel
Mechanism Improvement
Variants
Notable Comparisons
Trivia
The Robinson XCR is graphically the largest assault rifle in AVA.
When used properly it can out-gun many Top Tier guns because if its high penetration and range.
When using this gun, use the UAV as much as possible. The marked enemies can be killed with ease through walls because they will almost never expect anyone to use the Robinson XCR. 
Gallery