Jurassic World: Dominion Dominates Fandom Wikis - The Loop
Play Sound
This article is a stub. You can help Alliance of Valiant Arms Wiki by expanding it.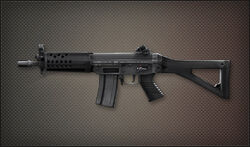 "

Shorter variant of SG550 assault rifle by SIG of Swiss. It has the shortest barrel and is used by many special forces such as France. It has high accuracy and reliability but comes with high price as well.

"

 

— Weapon Description 
The SIG SG552 is a Sub Machine Gun first introduced during the 04-15-10 Content Update.
Overview
The SG552 Commando is a carbine which has earned mixed reviews thanks to its remarkable recoil, but fairly high DPS over range.
As with most upgradable weapons, upgrading the SG552 Commando into the SG552 RIS increases recoil but allows for customization. Click on the link in the "Mods" section for details on the RIS.
The SG552 RIS can be very usefull with a silencer attached to it (especially with the no-damage-drop-off silencer mod) in missions like demolition or FFA (free for all). Mainly because it has the best range of all submachine guns (35), and the third highest damage rate (35, excluding shotguns). This means you can keep up easily with rifleman players that are using rifles such as: M4, L85 or TAR21!
Naming issues
NOTE: There are multiple naming errors within ijji AVA currently about the SG552, that switches the names of the weapons around.
1.There was a complete renaming of all the "SG552"-related weapons as of this year (2011). Formerly, they were named so that the "SG552" (no text) upgraded into the "SG552 Commando" (unconfirmed) . Now, the guns are renamed so that the un-upgraded version was named "SG552 Commando", and the upgraded form was named the "SG552 RIS" (confirmed.)
2. The RIS is only called the RIS at the weapon select screen. On the in-game HUD, the RIS is labeled the "SG552 Commando" where the weapon name should be (roughly the bottom-middle of the screen) instead of having its actual name. (Confirmed.)
Modifications (For the SG552 RIS)
Front
Laser Sight (-0.7 Mobility)
Mount
Barrel
High Class Type Sub-laser (No damage dropoff, presumably renamed in ijji AvA to advanced silencer?)
Advanced Silencer (No damage dropoff penalty for using a Silencer at range)
Trigger
High Class Type Trigger (-2.6 Range)
Aim Shot Reinforcements (Removes the usual RoF reduction when Aiming down the Sights and helps with ADS accuracy)
Grip
Silicon (Burst) Grip (+0.4 Accuracy, +1.7 Auto ACC)
Aim Shot Helper (Helps with Accuracy when aiming down the Sights)
Stock
Aim Shot Shock Absorber (Helps with Stability when Aiming down the sights. See "Note 2" above.)
Recommended Builds
Aimshot "COD"style    
Stability mode
High Class Type Trigger (+2 Stability, -1 Range)
Silicon Grip (+1 Stability)
Variants
Tips
Notable Comparisons
Trivia
Gallery
Media