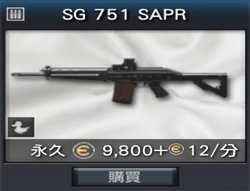 "

A large-caliber rifle that uses 7.62mmx51 NATO amTs in the SIG series. Produced in Switzerland. Polymer materials are used for stock and barrel, and gas loading method and curved rotation drive system are adopted for mechanics.

"

 

— Weapon Description 
The SG 751 SAPR is an Assualt rifle that propably will be available in UAVA.
Mods

Mount
Barrel
Long range Barrel (Damage -1.0, Range +3.7)
Burst Barrel (Range -1.8, Auto Fire +0.40)
Life Ring Reinforced Barrel (Damage +2.0, Range -2.7)
Grip
Human body engineering Grip (Accuracy +0.7, Auto Fire ACC +1.4)
Stock
Shock absorber (Accuracy +0.7, Auto Fire ACC +3.7)
Media