Jurassic World: Dominion Dominates Fandom Wikis - The Loop
Play Sound
This article is a stub. You can help Alliance of Valiant Arms Wiki by expanding it.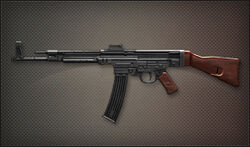 "

A light-weight automatic rifle developed as a result of the German weapons programs in World War 2, arguably the forefather of modern assault rifle designs. Its reduced cartridge dimension and gas operating mechanism lend it high reliability as well as fire power.

"

 

— Weapon Description 
The STG44 is a Rifleman weapon first introduced during the 01-14-10 Content Update.
Real World History
The STG44, or Sturmgewehr 1944, means Assault Rifle 1944 in english. ("Sturm" can be translated as "Storm", meaning a natural phenomenon, but here it derived from "Sturmangriff", meaning "Assault" in english) The original name was the MP44 ("Maschinenpistole 44" = Submachine Gun 44) as the designers of this gun wanted to act in accordance with the classical conventions for naming firearms. However, upon seeing its performance, Hitler renamed the gun to the Assault Rifle, as a propaganda tool, making it unwillingly the "father" of the assault rifles.

This was one of the few "Wunderwaffen" that worked, and worked well. Wunderwaffe means Wonder Weapon in english.

STG44 was the first rifle to bridge submachine guns like the mp40, and bolt action rifles, like the k98k. It fired the 7.92kurz, which was essentially a shortened version of the 7.92 caliber fired from the K98.

The design of the STG did not inspire Mikhail Kalashnikov's design of the AK47, as is commonly believed. Kalashnikov vehemently denied it when asked.
Overview
The STG-44 is an Gun with decent damage, and not much recoil With Medium Fire Rate And Good Accuracy You can play verry well with It if you Burst Good This gun is Suited For Low To Medium Range
But it have two Big Weaknesses
1.The Recoil Recovery is Extreme Slow After Each Bullet it Takes 2+ Seconds To get the Recoil back to Zero Making this gun Unusable In Long Range !
2. The Extreme Low Mobillity Like a Sniper is recommended To Take the Knife or Pistol if youre Running !
Methods of Acquirement
Earning 4, 5, or 6 Green Boxes in Prison Break (Survival) yields the STG44 to the player in 1 day, 3 day, or 7 day increments, repectively.
Modifications
None
Variants
Tips
Notable Comparisons
L85A2 Rail Have +1 Damage + 1 Range - 9 Accuracy +4 Stability -2 Mobility +3 Rate Of Fire they are Verry Similar However it have a Much faster Recoil recovery making it usable On long Range & With Reinforced Barrel it have +4 Damage and still have +2 Rate of Fire +3 Stability more than STG !
Trivia
The STG44 is the most often seen Capsule Shop gun in-game because of the ability to be earned from Scenario matches.
Gallery
Media