This article is a stub. You can help Alliance of Valiant Arms Wiki by expanding it.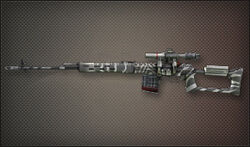 "

A custom variant of the Dragunov SVD rifle that feeds 7.62mm X 53R Finnis rounds. Although this model has seen an improved firing rate and stability due to the use of a high-precision action block, it could quickly go out of control under sustained high-speed firing.

"

 

— In-game Description 
The SVD Zebra is a semi-automatic Sniper Rifle first introduced during the 05-23-11 Content Update. It is a Capsule Shop variant of the Dragunov SVD.
Overview
The SVD Zebra is a beastly weapon, even compared to all classes of weapons in AVA. Despite the lower Damage and Accuracy the SVD Zebra has compared to its base counterpart, the higher Rate of Fire and almost non-existent recoil make this gun lethal at close and medium range, two areas typical Sniper Rifles falter in. The one-phase scope, however, leaves the SVD Zebra at a disadvantage at long range, leaving Bolt-Actions to reign supreme in that area. The upgraded Penetration stat on the SVD Zebra also leads to more consecutive one-shot kills compared to the Dragunov SVD, a trait most semi-automatic snipers lack. Despite its upgrades, the SVD Zebra still makes use of its predecessor's 10 bullet clip, leaving the player to be left dry in the midst of a firefight should they spam the weapon. This gun has the ability to Jump-shot, and is probably the only sniper rifle able to do so.
Variants
Modifications
There are no modifications for this weapon.
Tips
Notable Comparisons
Trivia
Gallery
Media