This article is a stub. You can help Alliance of Valiant Arms Wiki by expanding it.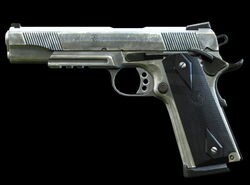 "

An upgraded model of the legendary Colt M1911A1 manufactured by S&W. The solid design of the original model coupled with a rail system and high-precision trigger block ensures high accuracy and good durability.

"

 

— Weapon Description 

The SW1911 is a Secondary weapon first introduced during the 07-13-11 Content Update.
Overview
The SW1911 is a secondary weapon purchased with blue tickets. The SW1911 has high range, damage, and stability stats for a pistol, but at the cost of a small ammo clip and low mobility compared to other pistols. Up until the release of the Ingram MAC-10, the SW1911 was the go-to Secondary for Free To Play players, being the most efficient backup weapon in the game for its time. After the Ingram MAC-10's release, the weapon became less sought-after. This weapon is also harder to spam compared to the Beretta92FS because of the low ammo count.
The SW1911 only costs 60 Blue Tickets, making it the cheapest and most cost-effective pistol in the game.
Ever since the removal of Blue Tickets in 2016, it is near impossible to acquire this weapon outside of promotions.
Modifications
None
Variants
Tips
Be mindful of the low ammo count
Notable Comparisons
Trivia
In the draw animation(look in GIF Gallery), you can see that the round is not in the chamber.
Gallery
GIF Gallery
Media