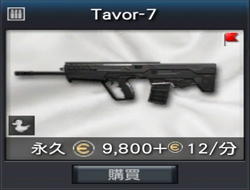 "

A bullpup-style rifle firearm that uses 7.62x51mm NATO ammunition, manufactured by IWI, an Israeli firearms development company. The exterior is similar to the TAR-21, but the overall performance of the firearm is similar to the Tavor X95, making it a more stable model. The rifle's fuselage is made of high-strength polymer material and uses a durable, highly accurate chrome lining barrel.

"

 

— Weapon description 
The Tavor-7 is an Assualt rifle that propably will be available in UAVA.
Mods

Mount
Barrel
Long range Barrel (Damage -1.0, Range +3.8)
Burst Barrel (Range -1.8, Auto Fire +0.45)
Reinforced Barrel (Damage +2.0, Range -2.7)
Media