Jurassic World: Dominion Dominates Fandom Wikis - The Loop
Play Sound
This article is a stub. You can help Alliance of Valiant Arms Wiki by expanding it.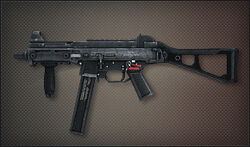 "

Just as its name of Universal Machine Pistol, UMP is widely used by many national security agencies all across the world. It uses 45ACP ammo to compensate somewhat reduced power of SMGs. Standard equipment of Rail allows wide variety of custom parts to be added on.

"

 

— Weapon Description 
The UMP45 is a Sub Machine Gun.
Overview
While the UMP has below average accuracy, fire rate and stability, it makes up for it by having extraordinary damage and range.
One of the most unique aspects of the UMP is that its recoil makes it highly effective for midrange and long range combat (Approximately 12 meters), where it can make the most of its range, stability and damage in full auto. However, at any other distance it is at a disadvantage, as it is outperformed due to its low DPS for close quarters and low accuracy at long range.
Being of Ducky Rank, this is one of the few expendable weapons in ijji AVA. It is also (currently) the cheapest SMG in the game, at 34,000.
Modifications
Front
Laser Sight (-0.7 Mobility)
Laser Sigh MK.II (-1.8 Mobility)
Mount
Barrel
9mm Para. Barrel (+0.9 Auto ACC, +5 Ammo, -3 Damage)
Long Range Barrel (+2.6 Range)
Trigger
Mechanism Upgrade (+0.58 RoF)
Grip
Soft Grip (-1.4 Accuracy, -1.2 Auto Fire ACC)
Stock
Custom R.C Stock (+1.4 Control)
Recommended Builds
There are basically two routes you can go with the UMP: The aimshot upgrades and the non-aimshot upgrades. Ultimately it's going to depend on which type of player you are- if you hit and run, are always on the move, and like to burst for the head and neck while walking/running, you probably won't get much use out of all the aimshot parts- but if you're one of those guys who approaches a corner, waits for the other guy to run around, and then moves on, the holo and the aimshot parts will serve you well. neither build is really better than the others.
Variants
Tips
Notable Comparisons
Trivia
Gallery
GIF Gallery
Media