Jurassic World: Dominion Dominates Fandom Wikis - The Loop
Play Sound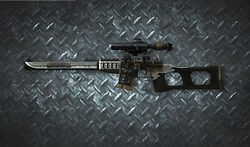 "

VSS Katana is a special handmade version of original VSS. Overall performance has been improved by providing higher damage, range and accuracy.

"

 

— Weapon Description 
The VSS Katana is a Sniper weapon introduced in the 01-19-12 Content Update. It is a Capsule Shop variant of the VSS.
Overview
The VSS Katana is the capsule version of the VSS, and compared to its regular model, its an insane improvement. While the regular VSS has very low damage for a sniper rifle (Even for a semi-automatic one.) and kills in 4-5 shots at middle distances, the Katana is 15 points higher in damage, making it a 1-2 shot kill, and the range has also been improved to 75 from 55, making it even more formidable at longer ranges. The Katana has one of the fastest draw times of all other sniper rifles, and its scoping time is also very quick. The accuracy has also been improved, further improving the weapon's long range capabilties.
The scope is a double-phase one, with the first phase being a low magnification one, useful for close-mid ranges, and the second is a much higher magnification phase, useful for longer ranges. Another one of its many useful features in the integrated silencer that is said to be even quieter than the regular VSS one, having significant effect when behind the enemy lines. It has extremely good moveshot and very little sway while moving, and the jumpshot is acceptable, at some 6 bars of instability. The only major flaw of this gun is the 10 round magazine, which is sufficient for 3-4 enemies, meaning larger groups will be difficult to deal with, as the rate of fire is particularly high, unlike what the stats show, it seems to have a rate of fire of around 55 points. It is rarely bought due to its regular variant being so useless (For anything besides trolling.). Despite the unpopularity of it's regular variant, the VSS Katana is a popular sniper rifle in KAVA, due to huge jump in stats. 
Modifications
There are no modifications for the VSS Katana.
Recommended Builds
Variants
Tips
Notable Comparisons
Trivia
The VSS Katana is one of the few weapons to have a custom scope equipped with it. For the VSS Katana, it has a lotus design within the scope sights.
Gallery
Media