This article is a stub. You can help Alliance of Valiant Arms Wiki by expanding it.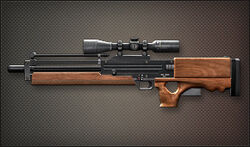 "

A semi-automatic precision sniper rifle designed by Walther of Germany. Though this compact bull pup rifle is less than 1m in length and has great portability, it is heavy and expensive.

"

 

— Weapon Description 
The Walther WA-2000 is a Sniper Rifle first introduced during the 12-22-10 Content Update.
Overview
This rifle is semi-automatic with rather high damage, enough to kill enemies with full health with one shot provided the shot lands on his stomach or head instead of the limbs or the chest. It's already superior damage can be increased with the use of mods. However, this weapon also has it's drawbacks, such as its lack for mobility and rather small magazine size. This rifle does not have full stability while running thus requiring "shift-walking" to be precise unless one has the Sniper Field Manual III. This weapon is usually turned over for a more popular weapon, such as the AWM or the TPG-1, despite the fact that it's stats are similar to a bolt-action rifle's. Its stats are comparable to the SR25 or the SV98.
The WA2000 used to cost a hefty 58k which has been lowered to a much more reasonable price,thus removing one of its biggest flaws.The rifle sees frequent use alongside the Sniper Field Manual III,as it increases its performance greatly.
Modifications
Front
Upgrade Kit (+3.0 ATK, +6.8 Range)
Mount
Precision Scope (Fast, double phase)
Quick Scope (Fast, single phase)
Barrel
Long Range (+? Range)
Sharpshooter Barrel (+2.4 ACC, +2.3 AutoFire ACC, -0.35 AutoFire)
Reinforced Barrel (+8 ATK, -0.8 Recoil Control, -0.08 AutoFire)
Grip
Weight Grip (+2.7 Recoil Control, -0.8 Mobility)
Rapid-fire Grip (+0.23 AutoFire)
Stock
Light Stock (+2.1 Mobility)
Heavy Stock (+2.0 Recoil Control, -2.0 Mobility)
Recommended Builds
Upgrade Kit
Precision Scope
Reinforced Rifling Barrel
Rapid-fire Grip
Heavy Stock
Tips
Notable Comparisons
Trivia
The WA 2000 was designed in the late 1970s and early 1980s, in response to the 1972 Summer Olympics Munich massacre.
Production of the rifle was limited and it was shortly stopped because it was too expensive to achieve widespread sales. A total of 176 rifles were produced, and 15 of which are currently in possession of the United States.
In AVA TW/HK, when the rifle was voted to be the euro gun of the month (it previously could only be bought by real money), it priced at a whopping 148000 euros. By comparision, the SA58 para is worth 87000 in AVA TW/HK.
This rifle was the signature rifle of Agent 47. It was available in all of the Hitman series of video games except Hitman: Absolution.
Gallery
Media