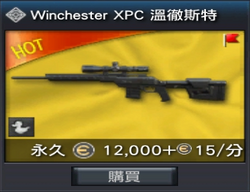 "

A bolt-action rifle that uses .243 Win bullets produced by Winchester. Lightweight materials such as aluminum alloys, nickel, and polymers are used from the frame to the main parts, boasting excellent stability suitable for the latest rifles.

"

 

— Weapon description 
The Winchester XPC is a sniper rifle that propably will be available in UAVA.
Mods

Mount

Trigger
Sniper Trigger (Accuracy +0.1, Autofire -0.15)
Veteran Mechanism (faster reload)
Grip
Ergonomic Grip (Accuracy +0.1)
Weight Grip (Control +16.1, Mobility -0.9)
Special modifications
Only obtainable by completing challenges
Over 1000 Kills with Use Winchester XPC:

Special Sniper Trigger (Accuracy +0.1)
More than 3000 hits on the leg with USE Winchester XPC:

Media