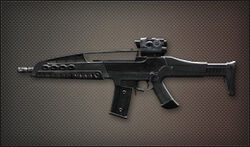 "

Next generation assault rifle designed by Germany's HK, based on the G36. It is a high-performance rifle that boasts exceptional production value, expandability and reliability.

"

 

— Weapon Description 
Overview
The XM8 is a good Mid-Range gun. One of the most noticeable traits of the XM8 is it's incredibly easy-to-control recoil. For the first 5-6 shots, the gun does not have any recoil, nor any bloom. After the first 5 shots, however, the gun blooms greatly and starts having unpredictable recoil. Therefore, it is imperative that one bursts or tap shoots with this gun.
While the XM8 has slightly higher damage than most average assault rifles, but its mediocre rate of fire makes it DPS below average, although its other high stats counter this, making the XM8 one of the easiest to use assault rifles in the game, on par with the M4A1 MK.3.
This gun is a good way to get a near G36 Alligator, although the shot groupings and move shot accuracy are far worse than 'Gator'.
Modifications
Front
The newest AR upgrade kit (Damage +2.0, Range +0.4, AutoFire +0.31)
Trigger
SpreadDecay Trigger: Allows faster crosshair recovery in full automatic mode by controlling the recoil spring.
Spread param. Trigger: Allows faster crosshair recovery in full automatic mode by controlling the gas piston's moving distance and speed. (+6.2 Accuracy, +8.6 Auto Accuracy)
Recommended Builds
Since there are only two triggers to use for the XM8 rifle, the best trigger to use is the Spread param. Trigger. The starting crosshairs are a lot smaller than the SpreadDecay Trigger and when bursting in 4-6 rounds, the crosshairs does not bloom very much at all. SpreadDecay Trigger makes the starting crosshair rather big and tends to be very inaccurate, even at medium range engagements. Using the Spread param. Trigger will slow down the crosshair blooming and even if it is bursted at 4-6 rounds per bursts, the crosshair will not bloom to the point when it is impossible to aim with. So it is recommended to burst fire to maintain the best accuracy possible.
Variants
Tips
Fire this weapon in burst shots of up to 6 rounds per bursts to maintain the best accuracy
Use the Spread param. Trigger for the best overall accuracy since the SpreadDecay. Trigger makes the XM8 more inaccurate, even when standing still
Always aim for the head/chest area when using this weapon to put down enemies with ease
Since this gun as a considerable knockback power, it can shake the enemies' view to toss their accuracy when they are being shot at. Take advantage of this gun's knockback power.
Notable Comparisons
G36 Alligator (very similar damage, but Alligator has better shot groupings all round and greater move shot accuracy.)
Trivia
The rifle was not adopted by the US military due to the costs of replacing the AR-15, replacing the magazines, cleaning kits and training each soldier to adapt to a new rifle. It otherwise scored quite well in the OICW program.
Recently, the Malaysian army adopted the XM-8 (in limited numbers) for their Navy SF group known as PASKAL.
There were 4 variants of the XM8, the Carbine (as seen in AVA), the Compact Carbine, the Sharpshooter Rifle and Light Automatic Rifle.
The model ingame is based on the final version of the prototype XM8 as evidenced by the PCAP acessory mounting holes on the handguard, the "Birdcage" flash hider (as apposed to the "duckbill" of the older one) and the gray color scheme of the gun
Gallery
Media